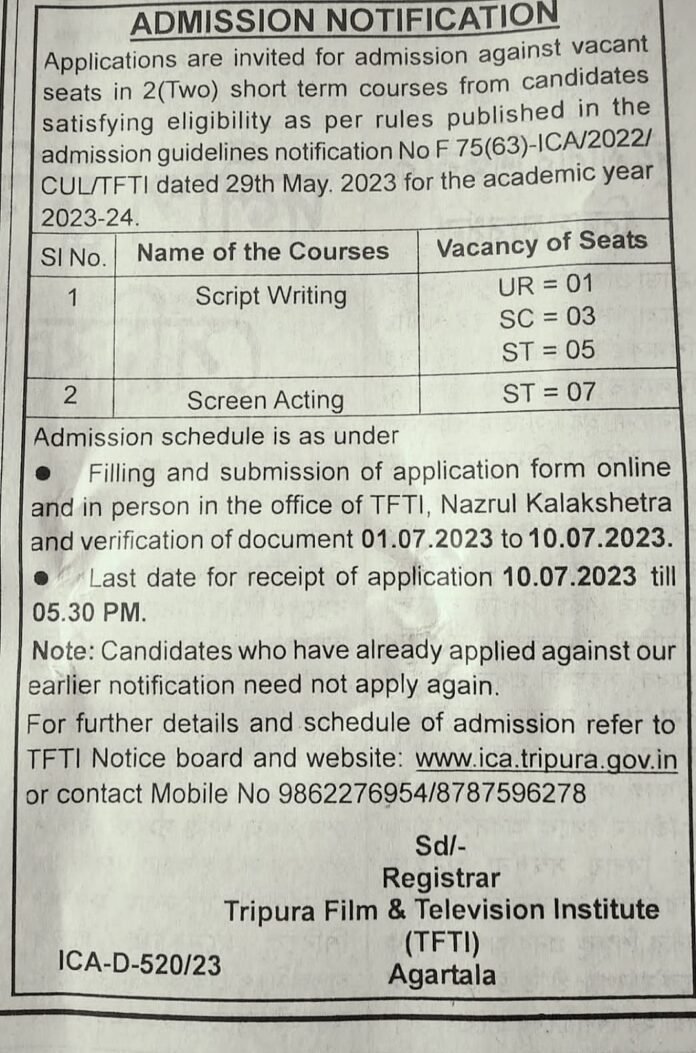 Exciting opportunities await cinema enthusiasts in Tripura as the renowned Tripura Film and Television Institute (TFTI) in Agartala has announced a circular inviting interested candidates to enroll in their academic courses focused on acting and script writing. The circular, issued in May 2023, has generated a buzz among aspiring filmmakers eager to hone their skills and pursue their passion for the silver screen.
Prospective candidates have the option to apply either online or offline at the TFTI office located in Nazrul Kalakshetra. The institute has made the application process accessible and convenient for all interested individuals. Verification of the applications will be conducted alongside the registration process, ensuring a streamlined and efficient admission procedure.
To be eligible for these highly sought-after courses, candidates must have a minimum qualification of passing the 12th grade. The TFTI offers two distinct courses: Script Writing and Screen Acting, each offering a unique avenue for creative exploration and development. The number of available seats varies for each course, with 1 seat for UR (Unreserved) category in Script Writing, and 3 seats for SC (Scheduled Caste) and 5 seats for ST (Scheduled Tribe) candidates. In the Screen Acting course, there are 7 seats exclusively reserved for ST candidates.
Aspiring filmmakers are urged to act swiftly, as the last date for receipt of applications is set for July 10, 2023, until 5:30 PM. The TFTI eagerly anticipates a flood of applications from enthusiastic individuals eager to embark on a transformative journey in the world of cinema.
The circular from TFTI has sparked excitement and a sense of anticipation among budding filmmakers across Tripura. The opportunity to learn from industry professionals and gain valuable insights into the art of acting and script writing has generated a palpable enthusiasm within the creative community. Aspiring actors and scriptwriters are encouraged to seize this golden opportunity and submit their applications before the deadline.
The Tripura Film and Television Institute continues to play a pivotal role in nurturing talent and fostering the growth of the film industry in the region. With its esteemed faculty and state-of-the-art facilities, TFTI remains a beacon of hope for those who dream of making their mark in the world of cinema.