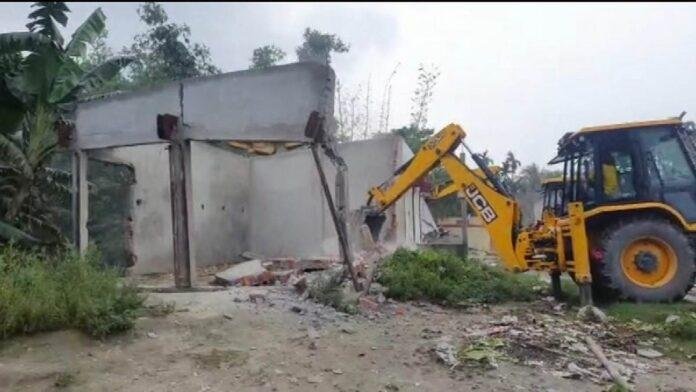 A massive campaign was launched on Saturday to clear 330 acres of government land in Assam's Sonitpur district. During this, all the illegally constructed buildings were demolished with the help of heavy machines. These include a madrasa, while the administration abandoned two mosques on the appeal of the local people. These people, asking for a time for the mosques, said that they would remove them themselves. No damage was done to the standing jute crop on this land.
The campaign went peaceful
The demolition of houses in the number-3 Chitalmadi area of ​​Barchalla, situated on the north bank of the Brahmaputra river, started at around 6 am. Bulldozers and other heavy machines were used in this work. In this matter, Sonitpur Deputy Commissioner Deb Prasad Mishra said that the entire operation to clear the land was peaceful. People had already left from there. Due to this, there was not much difficulty in taking action.
100 MW solar plant will be set up on the ground
He said that most of the occupants do agriculture. He had requested to give time till his jute crop is ready. There is a plan to set up a 100 MW solar plant on the vacated land. Around 1,200 security personnel were deployed during this operation.
299 families lived in this area
According to government figures, 299 families lived in this area. They were given notice eight months back to vacate. After this, more than 90 percent of the people had left the area. As a result, the campaign has been peaceful.
Most agreed, this is government land
An official said that most people have accepted that it is government land. People from many communities lived here. Most of the families in this are Bengali speaking Muslims.