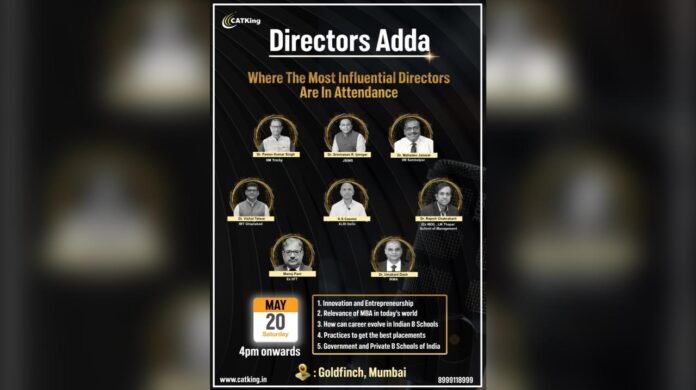 CATKing, a leading educational platform for MBA aspirants, is organizing the Directors Adda, Roundtable Conference in Mumbai on May 20th, 2023. Esteemed directors from prestigious Indian Institutes of Management (IIMs), Jamnalal Bajaj Institute of Management Studies (JBIMS), Institute of Management Technology (IMT), Xavier School of Management (XLR), and Institute of Rural Management Anand (IRMA), along with other top B-schools in India, will participate in the event. The conference aims to facilitate discussions on entrepreneurship, innovation in India, and the relevance of an MBA in today's dynamic landscape.
The conference will feature renowned directors such as Dr. Mahadeo Jaiswal, Founding Director of IIM Sambalpur, who has extensive experience in information systems and management. Dr. Srinivasan R. Iyengar, a Professor at JBIMS specializing in Strategic Management and Marketing, will also be present. Dr. Pawan Kumar Singh, Director of IIM Tiruchirappalli, and Dr. Vishal Talwar, Director of IMT Ghaziabad, will share their expertise in organizational behavior, human resource management, and marketing. Dr. Rajesh Chakrabarti, the Director of Thapar Institute of Engineering and Technology, and Prof. Manoj Pant, an economist and former Director of IIFT, Delhi, will bring their insights on finance, economics, and international trade. Dr. K.S. Casimir, Director of XLRI, and Dr. Umakant Dash, Director of IRMA, will also contribute their knowledge in the areas of education and economics.
The Directors Adda will focus on various important topics including:
Innovation and Entrepreneurship: The conference will explore the evolving landscape of innovation and entrepreneurship in India, discussing emerging trends, challenges, and opportunities.
Relevance of MBA in today's world: The significance of pursuing an MBA in the current global scenario will be discussed, highlighting how an MBA equips individuals with the skills and knowledge needed to thrive in diverse industries.
Evolution of careers in Indian B-Schools: Valuable insights into career development opportunities and growth prospects within Indian B-schools will be shared, shedding light on potential paths and strategies for professional success.
Practices for securing the best placements: Effective practices and strategies to enhance placement prospects will be discussed, offering valuable advice to students and professionals aspiring for rewarding career opportunities.
Government and Private B-schools in India: The distinctions and similarities between government and private B-schools in India will be examined, exploring their respective strengths and contributions to management education.
The Directors Adda will be livestreamed on CATKing's YouTube Channel, providing global access to insightful discussions and valuable takeaways from the conference. CATKing's YouTube Channel has a subscriber base of 3.5 lac MBA aspirants, industry professionals, entrepreneurs, and faculties worldwide.
During the event, CATKing will also launch several exciting initiatives including the "B.R. Ambedkar 2.0 Program," official study materials, a comprehensive planner for MBA aspirants, an insightful survey report from current MBA aspirants and alumni, AI prompts for MBA preparation, and the unveiling of their new website. The B.R. Ambedkar 2.0 Program aims to provide discounted courses for aspiring MBA students from reserved categories in India, promoting equal education opportunities for everyone.
The Directors Adda is a must-attend event for those passionate about entrepreneurship, innovation, and the future of management education. It offers a unique opportunity to learn from renowned directors and experts in the field. Stay tuned for the insightful podcast on CATKing's YouTube Channel!
About CATKing:
CATKing is an ed-tech company that serves as a one-stop destination.
Youtube Channel: CATKing.in
Website: www.catking.in