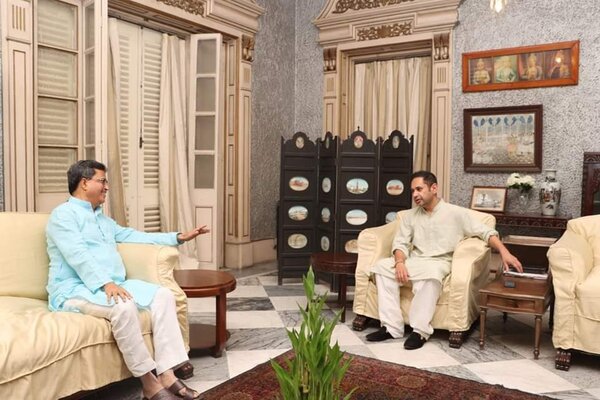 On Thursday at 10 o'clock, Chief Minister Dr. Manik Saha visited Rajbari and met with Pradyot Kishore Debbarman, the supremo of Tipra Motha. The Chief Minister himself took to social media to inform the public about his visit, stating that he went to inquire about Pradyot Debbarman's physical condition.
Reports indicate that Pradyot has been unwell for an extended period. He recently returned to the state after receiving treatment outside Tripura. However, tensions arose between Pradyot Debbarman and Chief Minister Dr. Manik Saha following a comment made by the Chief Minister. During a meeting with party representatives in Charilam, the Chief Minister remarked that there is no place for kings and maharajas in a democracy. He requested party members not to address him as Maharaja. Although this comment was made in a closed-door party meeting, it was subsequently reported in the media. This statement led to discontent among supporters of Tipra Motha, who advocate for Tipraland. In protest, party supporters burned effigies of the Chief Minister in front of the police in Takkar Jala.
Given this situation, political experts consider the Chief Minister's visit to Pradyot Debbarman's Rajbari around 10 p.m. to be an attempt to alleviate the anger and frustration that had emerged. By personally inquiring about Pradyot Debbarman's health, the Chief Minister may be seeking to mend the strained relationship and address the concerns of Tipra Motha supporters.
In a social media post, Chief Minister Dr. Manik Saha stated, "Upon hearing about the illness of Tipra Motha Supremo Shri Pradyot Debbarma, I immediately went to his residence to inquire about his physical condition. I pray to Sri Sri Mata Tripurasundari for his speedy recovery."
The Chief Minister's visit to Rajbari signifies a gesture of goodwill and concern for the well-being of Pradyot Debbarman. It demonstrates the Chief Minister's willingness to bridge the gap and restore harmony between the two influential figures in Tripura's political landscape.
The strained relationship between Pradyot Debbarman and the Chief Minister stems from conflicting views and the Chief Minister's comment about kings and maharajas. While the Chief Minister's remark was intended for a private audience, its publication in the media caused significant discontent among Tipramatha supporters. Their aspirations for Tipraland and the cultural significance attached to the title of Maharaja were deeply intertwined with their identity and demands for regional autonomy.
Recognizing the political ramifications of the Chief Minister's statement, experts believe that his visit to Rajbari aims to mitigate the anger and disappointment felt by Pradyot Debbarman and his supporters. By personally expressing concern for Pradyot Debbarman's health and seeking reconciliation, the Chief Minister signals his willingness to engage in dialogue and find common ground.
The visit to Rajbari also reflects the importance of maintaining political stability and unity within the state. It highlights the Chief Minister's efforts to address grievances and ensure a conducive environment for effective governance. By extending an olive branch and showing empathy, the Chief Minister displays leadership qualities aimed at fostering collaboration and understanding.
As Tripura continues to navigate its political landscape, it is crucial for leaders to engage in open dialogue, listen to the concerns of various stakeholders, and work towards inclusive solutions. The Chief Minister's visit to Pradyot Debbarman's residence signifies a step in that direction. It is hoped that this gesture of goodwill will facilitate constructive discussions and pave the way for a harmonious relationship between the Chief Minister and Pradyot Debbarman, benefiting the state and its people.
Chief Minister Dr. Manik Saha's visit to Pradyot Debbarman's Rajbari demonstrates his concern for the well-being of the Tipra Motha supremo and the desire to address the prevailing tensions. By personally inquiring about Pradyot Debbarman's health, the Chief Minister seeks to bridge the divide and find common ground. This visit symbolizes an opportunity for dialogue, understanding, and political stability in Tripura. As the state moves forward, it is imperative for leaders to foster unity and work towards shared goals for the betterment of the people and the region as a whole.