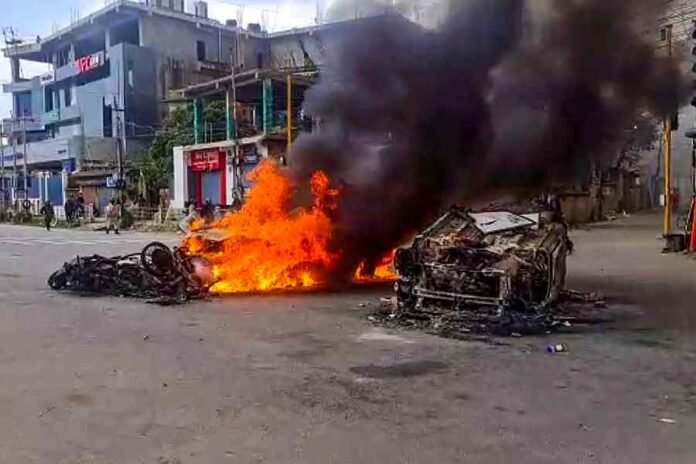 Several Church bodies in Manipur have called for calm and an end to violence in the state, stating that the Christian community is being targeted. The call comes after a spate of violent incidents in the state, including the recent killing of a CRPF commando in an encounter with militants.
The Church bodies have expressed concern over the safety and security of Christians in the state, alleging that they have been subjected to harassment and intimidation. They have urged the government to take immediate action to address the situation and ensure the safety of all citizens.
The call for calm comes amidst rising tensions in the state, which has been grappling with insurgency and militancy for several decades. Various insurgent groups have been fighting for independence or greater autonomy, leading to a cycle of violence and unrest.
The Church bodies have also alleged that the government has been targeting Christians in the state, with several incidents of violence and harassment being reported in recent months. They have accused the government of failing to protect the rights of minorities in the state and called for a probe into the incidents.
The Church bodies have also urged the state government to hold talks with all stakeholders to address the underlying grievances that have fuelled the conflict. They have called for a comprehensive approach that takes into account the aspirations of all communities in the state.
The situation in Manipur has been further complicated by ethnic tensions and territorial disputes. The state is home to several ethnic groups, each with their own unique culture and identity. These groups have been in conflict with each other over issues of land, language, and political representation.
The Church bodies have called for an end to the violence and urged all stakeholders to come together to find a peaceful solution to the issues facing the state. They have emphasized the need for dialogue and urged all parties to engage in constructive discussions.
The call for calm by the Church bodies in Manipur highlights the urgent need for a peaceful resolution to the conflict in the state. The safety and security of all citizens, including minorities, must be ensured, and efforts must be made to address the underlying issues of insurgency, militancy, and ethnic tensions. The government must take immediate action to address the concerns of the Church bodies and engage in constructive dialogue with all stakeholders to find a lasting solution to the conflict.