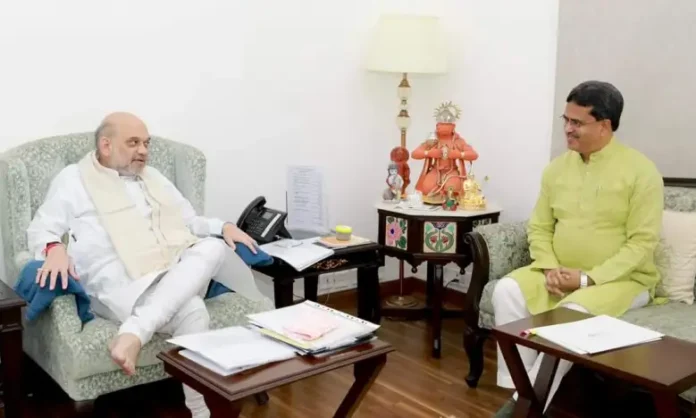 On Tuesday the meeting between Chief Minister Manik Saha and Union Minister Amit Shah was held to place a proposal to raise two new IR Battalions of Tripura State Rifles. The discussion about Bru pact was also discussed and raised by the chief minister.
At the present moment, Tripura state has 14 state Rifle Battalions and 11 of them are Indian Reserve Battalions. Recently two more Battalions have been constituted and now proposals for two more battalions have been made.
In a social media post Saha said "today, I met Honorable Home minister Shri Amit Shah Ji regarding a matter related to the issue and interest of the state. A proposal has been placed for raising two more IR Battalions in the state. Apart from that several important issues came up for discussion. He assured me to provide all the necessary assistance from the central government."
IR battalions stand for Indian Reserve Battalions which administrative control of the force was vested with the state government. The training of IR battalions is in two phases the first phase is in the State and the second is in the Army and central Paramilitary force. 25 percent of the troops were recruited from different parts of the country while 75 percent of soldiers come from the state.
According to the sources the Chief Minister wanted to know the present status of the Bru pact. The chief minister has informed that more than 50 percent of the Bru families had already been given resettlement and the rest of the work will be done within the given time frame. Due to covid, the resettlement process was slowed down now the government is working on the fast settlement of the Bru Families.
Chief minister Manik Saha also met BJP national president JP Nadda and Prime minister Modi regarding this issue.