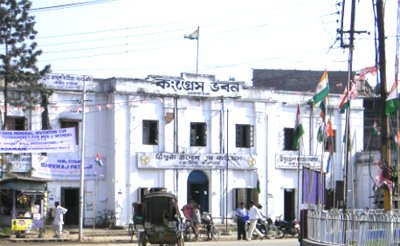 Despite winning only three out of 13 seats contested, the Congress party in Tripura appears to be sinking fast with no initiative from any quarter to revive the party. The party's dismal performance in the recent elections comes as a blow, as it had hoped to make a comeback by forming an alliance with the CPI (M) to regain its traditional vote base.
In the 2018 assembly election, the Bharatiya Janata Party (BJP) had made significant inroads into the Congress' vote share, snatching 37% of the party's 38% votes and leaving the Congress without a single seat, with most of its candidates losing their security deposits in all but 58 seats contested. The Congress had hoped that by aligning with the CPI (M), it would be able to regain a substantial portion of its original vote share in the recent polls. However, the BJP managed to hold on to a large portion of the Congress' votes and won the election, thanks in part to the treacherous role played by the regional party 'Tipra Motha', which fielded candidates in 22 general and SC reserved seats, splitting the opposition votes.
In the final count, the Congress won only three seats and secured a mere 8% of the votes. However, since the declaration of results, the Congress leadership has virtually retreated into a shell. Senior party leaders like Sudip Roybarman, whose daughter suffered a major injury, has been out of the state for a long time, while Gopal Roy is inactive. The PCC president, Birajit Sinha, held token programs after being disqualified from membership of Loksabha, but otherwise, he has confined himself to his hometown of Kailasahar. Sources reveal that the Congress has no prospects for growth in Tripura, and the central leadership is also responsible for this setback.
"In the assembly election, we fought alone. No senior party leader, including Rahul Gandhi, Priyanka Gandhi, and not even Mallikarjun Kharge, came to boost our campaign. Without any achievements at the central level, we are doomed in Tripura," said a senior leader of the party.
The recent electoral defeat has raised questions about the Congress' strategy and leadership in Tripura. The party needs to take proactive steps to revive itself, address internal issues, and connect with the people of Tripura to regain their trust. Without a concerted effort to revamp its approach, the Congress may continue to struggle in Tripura, facing challenges from both the BJP and regional parties.