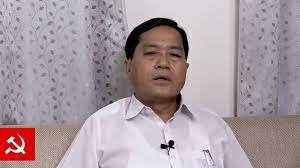 Addressing a seminar organized to mark the birth anniversary of Dr. B.R. Ambedkar at Ambedkar Memorial Hall, CPI(M) state secretary Jiten Choudhury came down heavily against the ruling Bharatiya Janata Party (BJP), stating that the constitution is not safe in their hands. He urged the people to unite to defeat what he called "evil forces" and protect the principles of the constitution.
Choudhury highlighted that the founder of the Indian constitution, Dr. B.R. Ambedkar, had placed maximum importance on protecting the rights of the common people and establishing social justice. However, he accused the present rulers of working to undermine the spirit of the constitution and its core principles.
Speaking about the condition of the CPI(M) in the state, Choudhury stated that the party is preparing for the next Lok Sabha election and called on the youth to take the lead. He emphasized that the time is ripe for the youth to come forward and play a pivotal role in shaping the future of the state.
During the seminar on "Save Constitution," Choudhury criticized the BJP for allegedly working to destroy the constitution and prioritizing the interests of a few corporate houses. He urged the youth to create massive public opinion against such activities of the ruling party and stand up for the protection of the constitution and the rights of the common people.