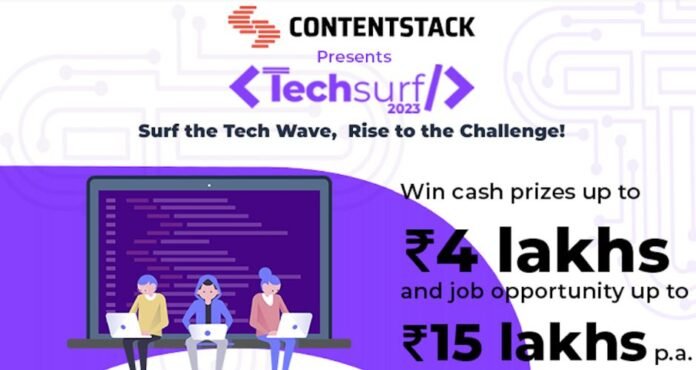 Contentstack, the composable digital experience platform (DXP) category leader and pioneer, is thrilled to announce the highly anticipated launch of Techsurf 2023, the fourth edition of its annual country-wide coding hackathon. This event aims to identify the brightest and most innovative software engineers across India.
Contentstack presents Techsurf 2023
Following the success of Techsurf 2022, Contentstack is excited to unveil this years edition. Techsurf's remarkable accomplishments in 2022 highlight its rising popularity among engineering and technology students, showcasing its influence on the Indian tech community. The event had an overwhelming participation of over 11,500 talented individuals from more than 1,200 prestigious institutes. It recognized and rewarded the excellence of 4 outstanding winners from over 200 cities across India.
Techsurf 2023 promises to be an unparalleled platform for aspiring software engineers to exhibit their talents, network with industry professionals, and explore career opportunities in the dynamic tech landscape. As an added incentive, the winners of this hackathon are awarded attractive prizes, including a substantial cash reward, as well as pre-placement interviews with Contentstack.
Techsurf 2022 was spread over three stages, including a quiz round, concept pitching, and a six-week-long coding task based on a problem statement provided by the judges. While the competition was tough, the reward made it all worthwhile. As per the reports, the winner received a cash prize of Rs. 2 lakhs with a pre-placement interview, followed by a cash prize of Rs. 1 lakh and a pre-placement interview for 1st runner up and a cash prize of Rs. 50 thousand and a pre-placement interview for both 2nd and 3rd runner up.
This year, in addition to the impressive rewards, the winners will have the opportunity to join Contentstacks dynamic team as Associate Application Engineers with a compensation package of up to Rs. 15 lakh.
Commenting on the event, Nishant Patel, Founder & CTO at Contentstack, expressed his excitement, saying, "Techsurf has quickly become a flagship event for Contentstack, and we are thrilled to witness its growing popularity year after year. This hackathon provides a remarkable platform for young talent in India to showcase their skills and creativity, and we are eagerly looking forward to uncovering the next generation of brilliant software engineers."
Vasu Kothamasu, Contentstacks General Manager of India and Global Engineering Leader, added, "TechSurf is a testament to Contentstacks commitment to fostering innovation and nurturing talent. As a pioneer and leader in the Composable Digital Experience Platform (DXP) category, Contentstack is dedicated to empowering young minds and shaping the future of software engineering in India."
Registrations for Techsurf 2023 are open from Tuesday, June 20, 2023, to Sunday, July 9, 2023. Interested participants can visit the official event website to register and access more information about the hackathon.
Contentstack – the leading Composable Digital Experience Platform (DXP) provider – empowers marketers and developers to deliver digital experiences at the speed of their imagination. Companies such as ASICS, Chase, Express, Holiday Inn, Icelandair, Mattel, Mitsubishi, Riot Games and Shell trust Contentstack to power their most critical content experiences with uncompromising scale and dependability. Famous for its Care without Compromise™, Contentstack has achieved the industrys highest customer satisfaction rating. Contentstack is also a founding member of the MACH Alliance, setting the industry agenda for open and composable technology that is Microservices-based, API-first, Cloud-native SaaS, and Headless.
​