To contest the assembly polls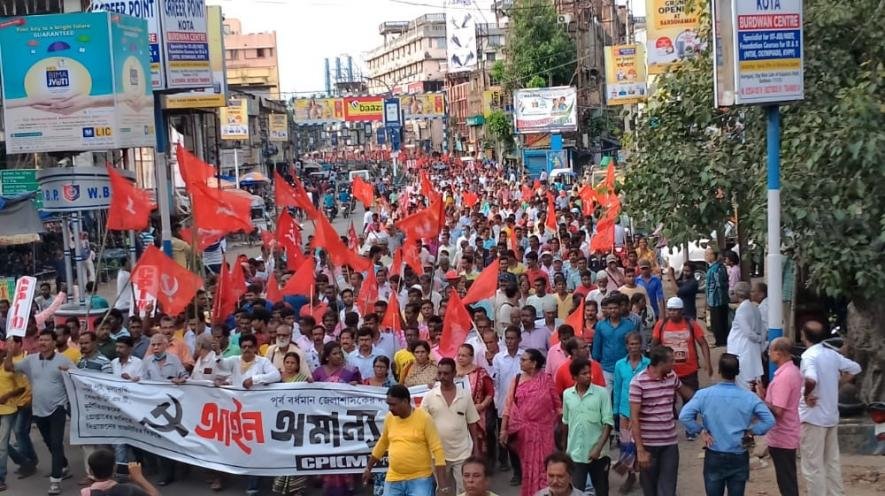 As the Congress and the CPI-M led Left parties are inching closer to contest the assembly polls, the parties organised a joint rally in Agartala demanding an end to pre-poll violence and to ensure free, fair, transparent elections to the 60-member Tripura assembly on February 16.
It is first time that the arch rivals organised joint rally. Four-time Tripura Chief Minister and CPI-M politburo member Manik Sarkar, party's state Secretary JItendra Chowdhury, Tripura state Congress President Birajit Sinha, AICC Tripura in-charge Ajay Kumar, Congress MLA Sudip Roy Barman, his father and former Chief Minister Samir Ranjan Barman, AICC secretary Szarita Laitphlang and many other leaders of the two parties led the rally.
Congress leader Sudip Roy Barman said that Saturday's rally is not a political activity, it's an effort to honour people's aspirations.
The Congress and the Left members jointly raised slogans against the political violence especially against the opposition parties and its supporters and demanded a conducive situation before the assembly polls.
After the rally, leaders of the seven parties — Congress, CPI-M, CPI, RSP, Forward Bloc, CPI (ML) and Tripura People's Party met Tripura Chief Electoral Officer (CEO) Gitte Kirankumar Dinkarrao, and other senior police officials.
CPI-M Tripura state secretary Jitendra Chowdhury after the meeting told the media that the full Election Commission led by Chief Election Commissioner Rajiv Kumar visited the state last week, but what people are witnessing is that by organising violence, the BJP leaders and ministers are challenging the commitment of the Commission.
EC declared the poll schedule
The day EC declared the poll schedule, numerous violent incidents occurred in different parts of Tripura including Majlishpur in west Tripura under the leadership of a minister, attacking the national leader of Congress and others who joined a peaceful programme, the CPI-M leader said.
"The CEO assured us and said all our concerns would be considered and that the ECI would take all steps to ensure free and fair elections. Goons may attack but we shall take necessary steps against those involved," Roy Barman said quoting the CEO.