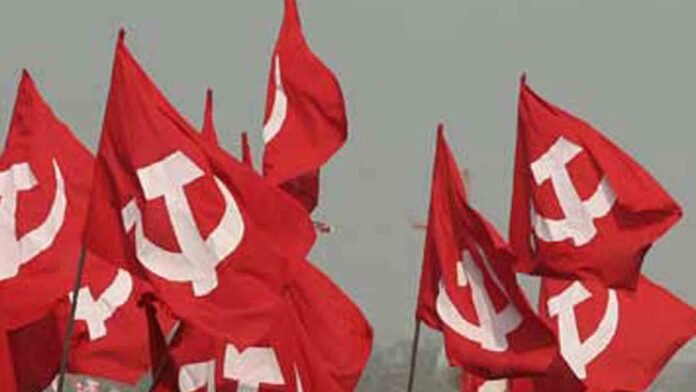 In an effort to voice their discontent with the ruling Bharatiya Janata Party (BJP) government's policies and governance, the Communist Party of India (Marxist), or CPI-M, organized a protest program as part of their week-long campaign in Tripura. The demonstration took place on Monday at the Math Chowmani market in the capital city and was jointly initiated by the CPI-M East Agartala Local Committee and Madhya Banmalipur Local Committee.
The demonstrators rallied common people, urging them to join the protest and raise their voices against what they perceive as the BJP government's misrule and mismanagement.
Addressing the gathering at the protest site, CPI-M leaders highlighted several key issues plaguing the state. They expressed concern over the rising prices of essential commodities, a severe shortage of drinking water and electricity, high unemployment rates, and a lack of meaningful employment opportunities for the youth.
Quoting Tripura Chief Minister Dr. Manik Saha's statement made during a by-election campaign in Dhanpur, where he acknowledged the CPI-M's commitment to the welfare of the people, one of the senior CPI-M leaders noted, "Now, the Chief Minister, who is also a BJP leader, is accepting and saying that Communists work for the welfare of the people."
Taking a critical stance against the BJP-led government at the central level, CPIM State Committee member Amal Chakraborty criticized Prime Minister Narendra Modi's unfulfilled promises. Chakraborty pointed out that before coming to power in 2014, Prime Minister Modi had made several commitments to the Indian citizens, much like the BJP's Vision Document that outlined numerous promises before they assumed power in Tripura. He lamented that, to date, none of these assurances had been realized.
Chakraborty highlighted specific unfulfilled promises, including Modi's pledge to create 2 crore jobs annually and the BJP's assurance of offering 50,000 government jobs within the first year of their rule in Tripura. He also referred to promises of job opportunities in every household and employment through missed calls, all of which have remained unfulfilled.
Furthermore, Chakraborty accused the BJP government of pushing the lives of citizens into darkness, as evidenced by the increasing prices of essential goods and the lack of basic amenities such as drinking water and reliable electricity supply, among other issues. The CPI-M demanded that the BJP government take immediate steps to ensure the provision of essential services to the common people, addressing their pressing concerns.
Prominent figures from the CPI-M, including CPIM East Agartala Region Committee secretary Sanjay Das and Madhya Banmalipur Region Committee secretary Lipika Das, were also present during the protest program. The demonstration served as a platform for the CPI-M to express its grievances, call for accountability from the ruling government, and engage the public in discussions regarding the challenges faced by the people of Tripura.