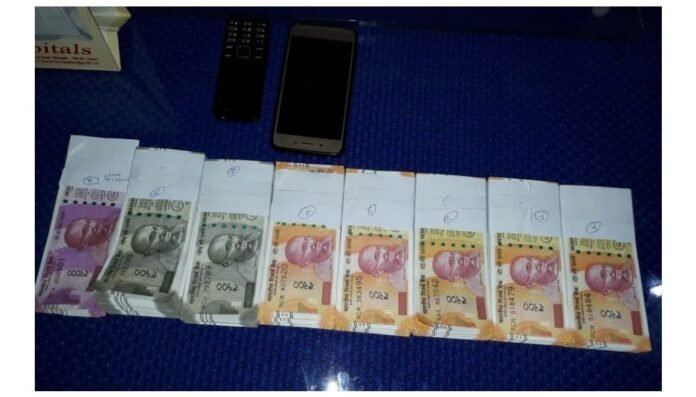 In a major breakthrough, the Special Task Force (STF) of the Assam Police has successfully cracked down on a well-organized fake currency racket operating within the city. The STF's diligent efforts culminated in a series of coordinated raids across Guwahati, leading to the apprehension of several key suspects and the seizure of counterfeit notes worth substantial amounts.
The operation, carried out with utmost precision, was a result of months of meticulous intelligence gathering and undercover operations. The police authorities had received credible information about the existence of a clandestine network engaged in circulating counterfeit currency throughout the city and beyond. Determined to put an end to this illegal activity, the STF launched an intensive investigation.
Under the leadership of the STF, multiple teams were deployed to different locations believed to be hotspots of fake currency circulation. In a synchronized effort, the raids were conducted simultaneously, leaving the criminals with little time to react. The police teams displayed exceptional coordination and efficiency during the operation, leading to the arrests of several individuals suspected to be the masterminds behind the racket.
During the raids, the police confiscated a significant amount of counterfeit currency, comprising fake notes of various denominations. The high-quality counterfeits bore an alarming resemblance to genuine currency, which had led to their successful circulation within the market. The STF also seized sophisticated printing equipment and materials used in the production of these fake notes, exposing the racket's elaborate setup.
A senior police official commended the efforts of the STF and emphasized the importance of eradicating such illegal activities to maintain the integrity of the nation's financial system. The official also urged citizens and businesses to remain vigilant and report any suspicious activities related to fake currency circulation to the authorities promptly.
The successful busting of this fake currency racket is a testament to the Assam Police's commitment to upholding the rule of law and safeguarding the interests of the public. The operation has dealt a significant blow to the criminal network and is expected to have a deterrent effect on others engaged in similar unlawful endeavors.
The arrested individuals will now face the full force of the law, and their prosecution will serve as a stern warning to those contemplating engaging in counterfeit currency activities. The Assam Police will continue to remain vigilant and proactive in combating such crimes to ensure the safety and security of the citizens and the overall prosperity of the region.
As investigations into the dismantled racket continue, the police have requested the cooperation of the public in providing any additional information that might assist in bringing all involved criminals to justice. The collaborative efforts of law enforcement agencies and citizens alike are crucial in the fight against such illicit operations and in promoting a crime-free society.