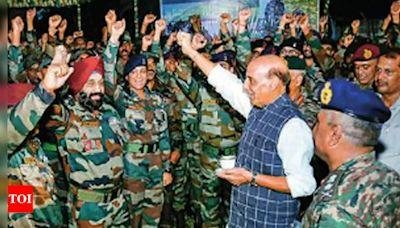 Union Defence Minister Rajnath Singh reached Dibang Valley. He interacted with the army personnel there. Here the soldiers sang the patriotic song 'Vande Mataram…'. The Defence Minister also appeared with him.
Navy Chief interacts with top officials on Australia tour
Navy Chief Admiral R. Hari Kumar interacted with top Australian military officials during his three-day visit to Australia. During this, detailed discussions were held to enhance maritime security cooperation. Admiral Kumar took over as the Navy Chief about 10 months ago. It was told from the Indian Navy that Admiral Kumar had received Vice Admiral Mark Hammond, Chief of the Royal Australian Navy (RAN), Vice Admiral David Johnston, Deputy Chief of the Australian Defecse Forces, Defence Minister Greg Moriarty and Royal Australian Air Force Chief Air Marshal Robert Chipman.
and met others.