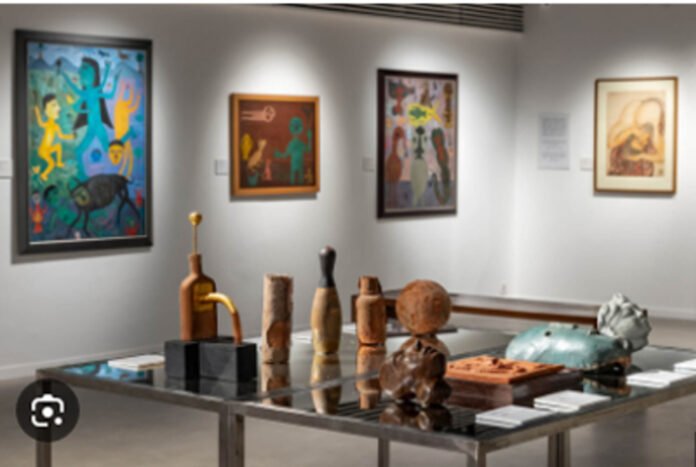 Art enthusiasts and the general public are in for a treat as an independent group of artists prepares to unveil a captivating art exhibition centered around the theme of dots. Titled "Dotamatism," this exceptional showcase promises to be an immersive experience, running from 28th to 30th July, between 4 pm to 9 pm, at the prestigious Nazrul Kalakshetra.
The concept behind "Dotamatism" is both simple and profound, revolving around the dot—a symbol of unity and diversity that connects all aspects of life. Through a myriad of artistic expressions, this exhibition delves into the fascinating realm of dots, exploring their deep-rooted significance in shaping perceptions, relationships, and the world at large.
Organizers of the event have expressed their excitement in welcoming art enthusiasts and the general public to this artistic brilliance. The exhibition promises to boast an eclectic mix of artists, featuring both established names and emerging talents. Each artist will contribute their unique interpretation of dots, utilizing a wide range of mediums, including paintings, sculptures, digital art, installations, and mixed-media creations.
Visitors can expect to be captivated by the imaginative narratives embedded in the artworks, unraveling the inter-connectedness of humanity, nature, and the cosmos through the lens of dots. The simplicity of the dot transforms into a powerful symbol, inviting viewers to ponder its multifaceted meanings and the harmony it brings to the world.
The three-day event will kick off with a grand inauguration ceremony, graced by the presence of eminent guests such as Mr. Abhijit Bhattacharya, Principal of Govt. College of Art and Craft, and Dr. John Debbarma, Dean (SW) of National Institute of Technology, Agartala. Their esteemed presence will add prestige to the occasion, underscoring the significance of this art exhibition.
Moreover, on the final day of the event, a thought-provoking talk show has been scheduled, featuring prominent personalities from the world of art. The discussion aims to motivate people and delve into the future of art, fostering a deeper appreciation for the role of art in society and its potential to inspire change and creativity.
The "Dotamatism" art exhibition provides a unique opportunity for spectators to engage with artists, gain insights into their creative processes, and witness the boundless possibilities of artistic expression. Whether you are an art enthusiast, a curious mind, or simply seeking inspiration, this exhibition is bound to leave an indelible impression and ignite a newfound fascination for the art of dots.
As the doors of Nazrul Kalakshetra open to this extraordinary event, art enthusiasts and the general public are encouraged to immerse themselves in the world of dots and embark on a visual journey that celebrates the beauty of unity, diversity, and artistic brilliance.