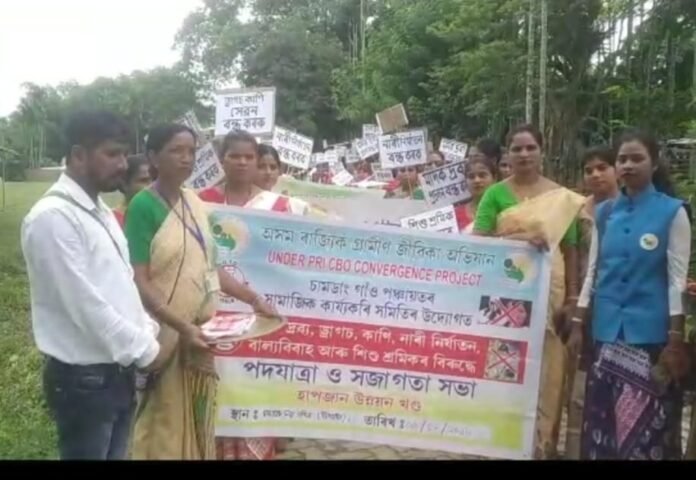 Guwahati: ATTSA on Saturday August 5 said that drugs menace in the state is resulting as assault on women and children.
The leaders were speaking on a Padyatra cum awareness programme in Samdung village of Tinsukia district in upper Assam.
The programme was conducted by Assam Rajyik Gramin Jivika Abhiyan under PRI CBO convergence project where Samajik Karyakari Samiti of Samdang Tea Estate ,Self help Women Groups, All Tea Tribes Students Association and thousands of others participated.
" The drugs menace in the state is resulting as assault on women and children. The government must take appropriate steps to ensure the safety of women and children immediately. The drug menace must be completely eliminated from the villages and cities of Assam. " Irot Tanti, a senior leader of ATTSA said .
Thousands of women took to the streets taking placards in hands and chanting slogans against drugs, assault on women and child labour.
The presidents and secretaries of many branches of ATTSA, Tea gardens' officials and Panchayat level workers took part in the programme.
They expressed deep concern over drugs menace spreading in the tea-belt .
Remarkably, drugs is also playing a big role in spreading HIV aids infections in the districts.
The district administration has recently taken strict actions against the drugs menace and police is constantly conducting awareness programmes and raids against drugs, child labour and assault on women.
" The Male members of the family addicted to drugs pay no heed on families requirements. As a result the women and children have to suffer a lot ." Siddhi , an activist said .
Tinsukia is 500 kilometers from capital Guwahati and Samdang village is 22 kilometers from police headquarters.