The Election Commission has rejected the complaint against Moboshar Ali, who quit the Communist Party of India-Marxist (CPIM) and joined the BJP just before the Tripura assembly elections. The CPI (M) had demanded cancellation of nomination of Moboshar Ali, calling him a traitor. Also complained to the Election Commission about disqualifying him for the upcoming elections.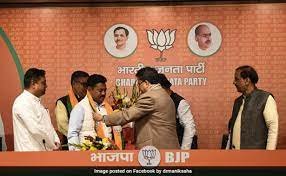 Jitendra Chaudhury had said that Moboshar Ali has neither resigned from the assembly nor from the party, under any circumstances he cannot be considered as a BJP candidate. Therefore, in the absence of statutory legal requirement, he may be disqualified to be a BJP candidate.
Nomination of BJP candidate correct 
Gitte Kirankumar Dinkarrao said that the Election Commission had received a complaint against Moboshar Ali. The Returning Officer has checked his Form A and B and found that his nomination is correct. The CPI(M) state secretary has already been informed about this decision. 
 
Moboshar Ali had taken BJP membership on January 27.
CPI(M) MLA from Kailashahar assembly constituency Ali had joined BJP on January 27 along with Subal Bhowmik. The assembly elections in Tripura are to be held on February 16. Ali was given BJP ticket from Kailashahar constituency. Moboshar Ali had joined the BJP on Friday in New Delhi and was later named on the list of BJP candidates. On the CPM's contention for his disqualification, Mr Ali, the BJP and the poll officer have not reacted yet. Ali, who won the 2018 Tripura Assembly elections on a CPI(M) ticket, was denied a ticket by the CPI(M) as his constituency was part of the "seat adjustment" with the Congress. 
CPM Leader Letter
The CPM leader's letter specifically points towards a technicality: "In Para 3 of Form 'B' of Symbol Allotment, there is a statutory declaration of the authorized signatory of the party symbol certifying that, 'the candidate whose name is mentioned above is a member of this political party and his name is duly borne on the rolls of members of this party'. As [Moboshar Ali] neither resigned from the house of Assembly, nor from the CPI(M), in no circumstances, he may be treated as a candidate sponsored by BJP. Hence he may be disqualified for being a BJP candidate for want of statutory legal requirement."