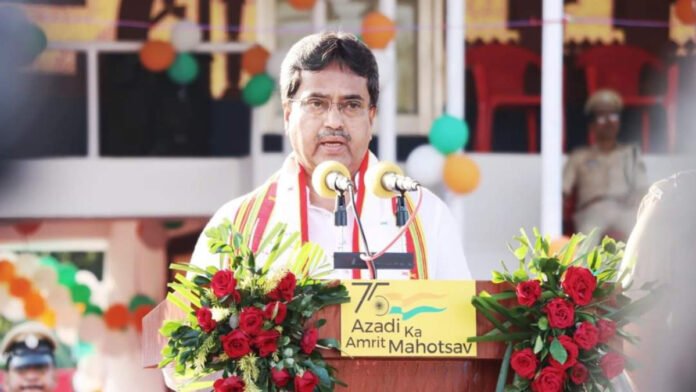 Tripura Chief Minister, Manik Saha, has rebuffed the demands of the opposition party, Tipra Motha, for a separate state for tribal communities, calling it a misleading tactic to manipulate indigenous sentiments. Without explicitly naming Tipra Motha, Saha addressed a gathering of indigenous tribal leaders and emphasized the state government's commitment to investing ₹5000 crore in tribal welfare, refuting the opposition's claim of ₹600 crore.
"We are open to addressing issues that are raised constructively, but we will not tolerate divisive politics," asserted the chief minister during the conference. Saha's statements come in response to recent meetings between A K Mishra, an advisor to the Ministry of Home Affairs for Northeast, and a delegation from Tipra Motha, which has advocated for a separate entity called 'Greater Tipraland,' encompassing parts of neighboring northeastern states and even Bangladesh.
Saha accused the opposition of using slogans like Tipraland to manipulate public sentiment for political gains. He highlighted the historical context, citing decades of similar tactics during the Left regime, suggesting that the opposition's stance is rooted in tribal vote-bank politics.
The chief minister strongly asserted that Tripura's development would be all-encompassing, rejecting any notion of leaving behind the state's indigenous population, which constitutes 32% of the total. "We stand united under the goal of 'Ek Tripura Shrestha Tripura' – One Great Tripura," Saha declared, aiming to counteract the opposition's divisive narrative.
Challenging the claims made by Tipra Motha about the allocation of funds, Saha emphasized that ₹5000 crore would be dedicated to the welfare of indigenous tribes, far surpassing the amount alleged by the opposition. This financial commitment reflects the state government's intention to uplift tribal communities and bridge disparities.
In the April 2021 elections for the Tripura Tribal Areas Autonomous District Council (TTAADC), Tipra Motha secured 18 out of the 28 contested seats, leaving the ruling BJP in an opposition role. Saha highlighted the strides in development witnessed since Prime Minister Narendra Modi took office in 2014, suggesting that the state's progress has been significant and inclusive under his leadership.