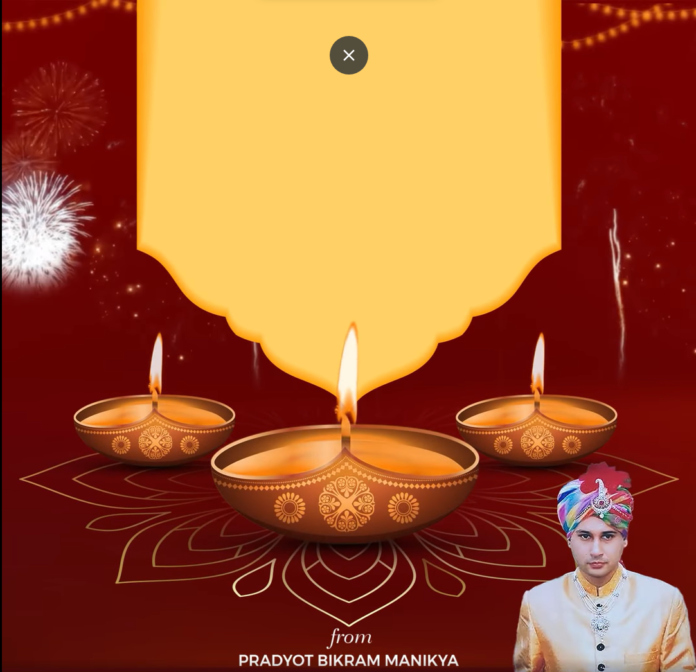 This #Diwali, the Head of the Royal House of Tripura, Founder of The Northeast Today and Tipra Motha, extends heartfelt wishes.
Invoking the blessings of Maa Laxmi for joy, prosperity, and new beginnings in everyone's lives.
"Wishing everyone a very #HappyDiwali and #LaxmiPuja," expresses the esteemed head.
Diwali, the festival of lights, signifies the triumph of light over darkness, good over evil, and knowledge over ignorance.
Homes adorned with diyas and rangoli, families coming together, and the air filled with the fragrance of sweets mark the festive season.
Maa Laxmi, the goddess of wealth and prosperity, holds a significant place in Diwali celebrations, symbolizing the invitation of blessings into homes.
The mention of new beginnings carries a profound message of optimism, especially after facing challenges globally.
Diwali is an opportunity for personal reflection, fostering harmonious relationships, and spreading joy and kindness.
The use of hashtags like #HappyDiwali and #LaxmiPuja in the message not only reflects a contemporary engagement with social media but also serves as a unifying force, connecting people from diverse backgrounds in the celebration of this joyous occasion. Social media platforms have become a powerful medium to share festive greetings and connect with a global audience, transcending geographical boundaries.