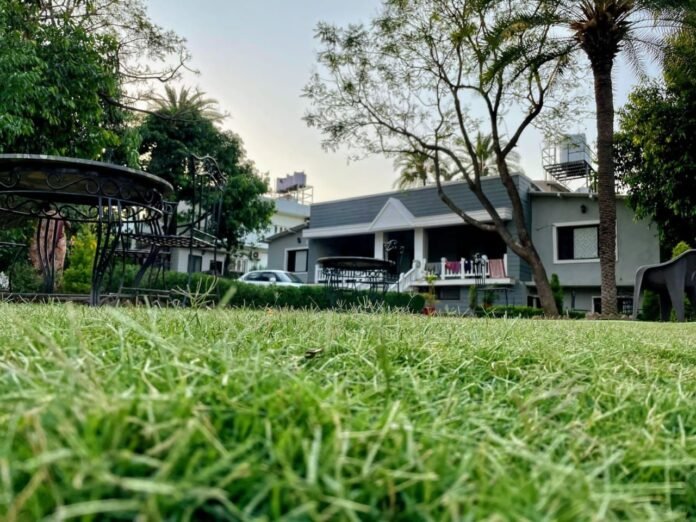 Hotel Agroha, located in the scenic surroundings of Mount Abu, offers a unique experience that combines the charm of a colonial-era villa with the services of a luxury hotel. Nestled amidst nature, the hotel provides a tranquil and serene atmosphere for guests to enjoy. The colonial-era villa has been carefully renovated to preserve its historical charm while incorporating modern amenities and comforts. The tastefully decorated rooms and suites offer a blend of elegance and relaxation, providing guests with a comfortable retreat during their stay.
Despite its secluded location in nature, Hotel Agroha is conveniently situated just 1 kilometer away from the main city of Mount Abu. This allows guests to easily access the attractions, shops, and restaurants in the area. The picturesque Nakki Lake, a popular tourist spot known for its scenic beauty, is also within close proximity to the hotel. Guests at Hotel Agroha can indulge in the luxury of personalized service and hospitality.
The charming presence of the green munia around hotel Agroha
A little finch species called the green munia, sometimes called the green avadavat or the green waxbill, is seen in several parts of India, especially at the Hotel Agroha on Mount Abu. These birds are distinguished by their vivid green feathers, which are especially eyecatching during the mating season. They can be seen in the wild around the hotel, particularly close to vegetation and water supplies. Green munia bird signals show that the area is ideal for these birds and that they may have a nearby breeding or foraging habitat.
Why should you choose Hotel Agroha?
You can now experience a delightful array of unique accommodations at the hotel, offering a globally inspired stay that will transport you to a world of sensational pleasures Their prime location, within walking distance from Nakki Lake, Mall Road, the bus stop, and taxi stand, ensures that you have easy access to the heart of the city. Situated on the main road of Shankarmath Temple-Kumharwada, at Villa Agroha, you'll enjoy the best of both worlds: lush green surroundings without the noise and commotion of the city, while still being close to all the major attractions and points of interest in town.
This hotel near the hill station and Nakki Lake in Mount Abu offers stunning garden views, a
serene and clean atmosphere, and a stay that will create lasting memories. Whether you're on your honeymoon, enjoying a family vacation, or traveling with friends, our private accommodations provide all the modern luxuries of a top-tier hotel.
Facilities
Villa Agroha is a charming retreat where you may unwind with your family and enjoy some uninterrupted time together. You have the luxury of privacy here. You may spend some beautiful time in solitude not far from Nakki Lake, surrounded by rich greenery. Your visit will be one to remember in the lovely garden and views of the area, as well as the calm and tidy atmosphere. In Mount Abu, Agroha Villa is close to Nakki Lake and Hill Station. With their stylishly constructed rooms that include luxurious King size beds, All Weather Hot & Cold Airconditioning, 32″ Flat LED TV with DTH, Tea/Coffee Maker, Intercom, 24 Hour Room Service, Garden Restaurant, etc., you may take advantage of all the amenities and comforts of a contemporary hotel.
You can create priceless memories with your family and loved ones by spending quality time together in our luxurious villa, which is packed with relaxed recreational opportunities. You can engage in your preferred sport and leisure activities while surrounded by greenery without leaving your lodging. The village, which has a view of the Aravali Range, exudes serenity like nowhere else in the area.
Rooms
There are four types of rooms available in Hotel Agroha to suit your needs.
Four Bed Deluxe
The four-bed deluxe room is an ideal choice for families seeking both togetherness and privacy. It features a single entrance that leads to two interconnected rooms. Inside, there is a king-size bed in one room and a queen-size bed in the other. Guests have access to a bathroom and an additional WC. This room can comfortably accommodate 4 adults on the king-size and queen-size beds. If required, an extra mattress can be provided for an additional adult or child.
Double bed Super Deluxe
For customers seeking the utmost in luxury, the super deluxe double-bed room unit features a poster bed design with a very big space. Two individuals may sleep in the king-sized bed in this room, and if more adults or children are required, two additional mattresses can be used.
Four Bed Super Deluxe
The four-bed super deluxe room offers the ultimate comfort, luxury, and privacy for families. It consists of a larger room with a king-size bed and a beautifully designed poster, connected to a smaller room with a queen-size bed. Each room has its own AC, TV, bathroom, and private entry/exit. The rooms are interconnected by a lockable door, ensuring complete privacy.
Double Bed Deluxe
The tastefully decorated double-bed deluxe room provides a comfortable stay for two adults on a king-sized bed. Additionally, an extra mattress can be added to accommodate an additional adult or child if required.
Whether you're a family looking for spacious accommodations with interconnected rooms and the convenience of extra beds, or a couple seeking a tastefully decorated room with a king-sized bed and the option for an additional mattress, our deluxe room options provide comfort and flexibility to suit your needs. With attention to detail and a focus on privacy, our rooms offer a relaxing and enjoyable stay for all guests. Reserve your deluxe room now and embark on a remarkable stay with the best hotel in Mount Abu. Visit their website https://www.hotelagroha.com/ today.