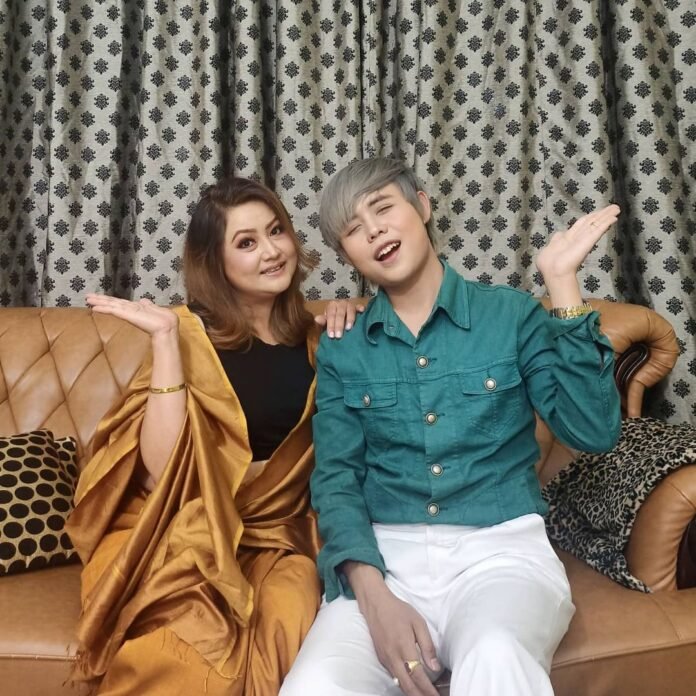 Maya Choudhury, a veteran Manipuri actress, recently talked about working on Priyakanta Laishram's ONENESS, the first gay-themed film to be produced in Manipur. In the world of Manipuri Cinema, Maya is a household name. From the late 1990s to the late 2000s, she was the moviegoer's favorite in Manipur. Each one of us still vividly recalls her depiction as "Oja Sarla" in the 2006 blockbuster film, Basantagee Nongallamdai.
Having starred in around 50 films, Maya marked her final appearance as a protagonist in 2010. Since then, she has had supporting roles in Manipuri feature films. However, since the movie ONENESS was announced in December 2021, reports have been circulating that Maya Choudhury will portray a very crucial role in the film. The film's director, Priyakanta Laishram, has stated in numerous interviews that Maya is one of the film's protagonists and that viewers will see her in a wholly new, high-scale acting performance that is very different from all of her previous performances and that she is portraying a progressive role for a woman.
Maya too agreed with the director's statement about her performance in the film. She remarked, "Working with a team of young minds was an entirely new experience. I'm really happy to have worked with Priyakanta Laishram and his team. I've been doing films for more than two decades. But for the first time, this film, which is also based on a true story, stirs up the deepest feelings in my heart."
When discussing her feelings while playing the part, she stated, "In this movie, whenever I was in a scene, I never felt like I was acting; rather, I could feel everything as I read the scene or the script as a whole. It's a very sweet and tragic tale. I'm thrilled to have worked with such young and skilled filmmakers as Priyakanta Laishram and his team. He has a razor-sharp mind and is quite clear about what he wants, despite his young age. Having this young crew around makes me feel younger as well."
Not to be forgotten, Maya Choudhury also appeared as one of the guests in the 2020 very popular Manipuri talk show series, Up-Close With Priyakanta Laishram, which was also created, conceptualized, and hosted by Priyakanta Laishram. Since then, the whole public has been able to see this endearing relationship between these two powerful artists. Earlier, during the unveiling of ONENESS, Priyakanta said, "We the 90s kids grew up watching Che Maya's work, from Meichaak to Basantagee Nongallamdai. So, to be directing her and also to share screen space with her for the first time is an absolute honor. It is like a dream come true. I just can't thank her enough for agreeing to be a part of this movie. Maya will be playing a pivotal role in the film and I am pretty sure everyone will appreciate her for this role."
In the film ONENESS, Maya Choudhury portrays the role of Anna Martin, the mother of Ivan Martin, an 18-year-old who was murdered by his brother for being gay. The first official trailer for the film was unveiled in April 2022 and was scheduled to hit theatres in October 2023. However, the makers of the film recently issued an official statement stating that the movie's theatrical release has been postponed indefinitely till further notice due to the horrific ongoing violence in Manipur since May 2023.