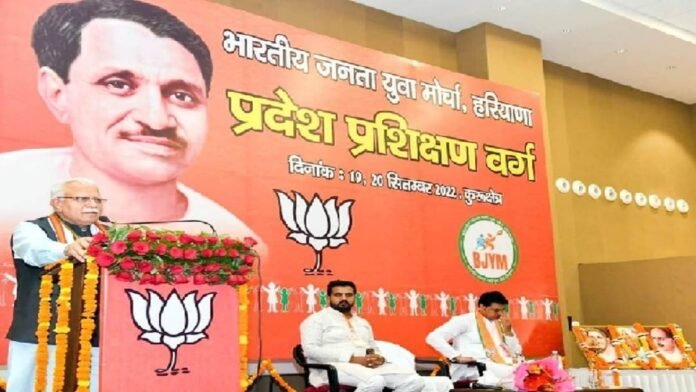 In Kurukshetra, a two-day training camp of Bharatiya Janata Yuva Morcha (BJYM) at the state level began on Monday at Geeta Gyan Sansthanam, Kurukshetra. BJP's newly appointed state in-charge and former Tripura Chief Minister Biplab Kumar Deb reached Kurukshetra for the first time. In the first session, he inspired the youth workers by giving the example of Prime Minister Narendra Modi. Along with this, Chief Minister Manohar Lal enumerated the achievements and policies of the government. The training camp lasted in two sessions. It was presided over by Yuva Morcha State President Rahul Rana.
Former Chief Minister of Tripura and newly appointed in-charge of Haryana BJP, Biplab Kumar Deb said that Prime Minister Narendra Modi's way of working is like that of an energetic youth. We are all working only after taking inspiration from them and due to the clean image of the government and the hard work of the workers, the BJP government will be formed in 2024 as well. Workers are the backbone of the organization and their hard work in strengthening the organization cannot be denied. Due to all this, BJP will get power in Haryana for the third time. He told the workers closely about strengthening the party in the state.
In the second session, Chief Minister Manohar Lal explained in detail the policies of the state government. He said that new dimensions of development have been established in the state. New public welfare schemes have been implemented for the poor, laborers, farmers, workers, backward and common people. People are getting the benefit of it. The eight years of the BJP government's rule for Haryana is no less than a golden age.
During this, while industrial investment was encouraged in the state, besides providing employment, 26 hours electricity in villages, efforts were made to extend the benefits of government schemes to the last man standing under the Antyodaya scheme. He said that BJP is a party with discipline.
In which even an ordinary worker can become from Chief Minister to Prime Minister. They all work in the interest of the country, BJP's goal is to make the country a Vishwa Guru. Agriculture Minister JP Dalal, Organization General Secretary Rakshavadra Raju, Thanesar MLA Subhash Sudha, District President Rajkumar Saini and Yuva Morcha state in-charge Abhinav Mishra were present on the occasion.
BJP's state in-charge, former Tripura Chief Minister Biplab Kumar Deb visited an exhibition on the life of Prime Minister Narendra Modi at Arjun Chowk, Brahmasarovar. He released a book based on the life of Prime Minister Narendra Modi here and introduced the workers.