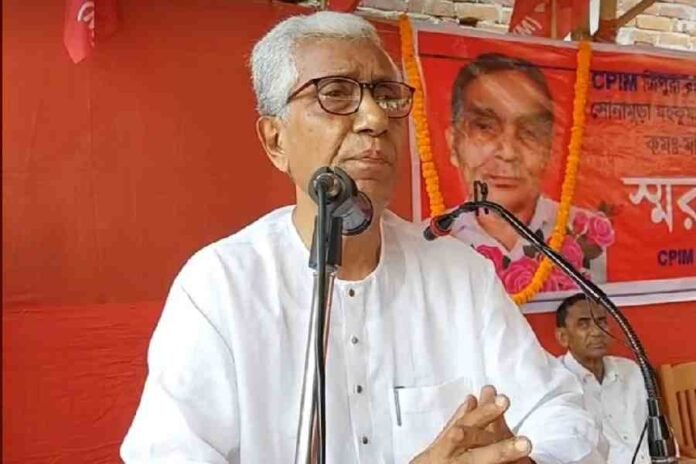 In a scathing attack on the royal family, former Tripura Chief Minister and CPI(M) politburo member, Manik Sarkar, accused them of failing to contribute significantly to the overall development of the state during their 1,300 years of rule. Sarkar alleged that the kings' efforts were limited to establishing a few schools and digging lakes, while they largely relied on tax collection from the erstwhile Chaklarosanabad (now in Bangladesh). He further criticized their collaboration with the British colonial force and their collection of revenue from Chakla Roshnabad, as Hill Tripura had limited revenue potential.
During a party program in Sepahijala's district Sonamura, Sarkar expressed his disappointment with the royal family's lack of substantial contributions to Tripura's progress. Apart from constructing the Ujjayanta Palace in Agartala, he claimed that they had done very little for the state. Sarkar pointed out that the kings had reached an understanding with the British colonial force, allowing them to rule the hilly state by collecting revenue from Chakla Roshnabad. This arrangement, he argued, left little room for revenue generation from Hill Tripura itself.
Without explicitly naming Pradyot Kishore Manikya, a prominent leader of the Tipra Motha party, Sarkar criticized his focus on liberating only a portion of the population, leaving the rest behind. During the 2023 Assembly elections, Manikya had claimed to fight for the rights of the Tiprasa people, but Sarkar questioned the validity of such claims. He highlighted the Left Front's achievements during its rule, including the establishment of the Tripura Tribal Autonomous District Council (TTAADC) and the introduction of reservation for indigenous people in education and promotion. Additionally, Sarkar noted that the Left Front had opened numerous schools and colleges, benefiting the indigenous population, and had granted land rights to over 129,000 indigenous people under the Forest Dwellers' Right Act.
Sarkar alleged that the decision of the Tipra Motha party to contest 22 non-ST reserved constituencies in the last Tripura Assembly elections was a strategic move aimed at blocking the Left Front from returning to power. He argued that Tipra Motha knew they had no chance of winning a single seat in these constituencies. By contesting these seats, they aimed to weaken the Left Front's electoral prospects. However, Sarkar highlighted that Tipra Motha only secured a 19 percent vote share by contesting 42 seats in the elections, ultimately winning only 13 seats out of the 20 ST reserved seats.
Continuing his critique, Sarkar alleged that Pradyot Kishore Manikya had been holding meetings with prominent figures such as Amit Shah and Himanta Biswa Sarma in Delhi and Guwahati, respectively, while the Left Front and Congress were forming an alliance to challenge the BJP in the elections. Sarkar claimed that Tipra Motha's strategy became evident when they announced their candidates for the 22 general and SC reserved seats just two days before the deadline for nomination papers. This timing suggested that their plans had been devised well in advance, according to Sarkar's accusations.
Former Chief Minister Manik Sarkar's scathing attack on the royal family of Tripura and the Tipra Motha party highlights his concerns about the state's development and the political strategies employed during the recent elections. Sarkar's allegations revolve around the lack