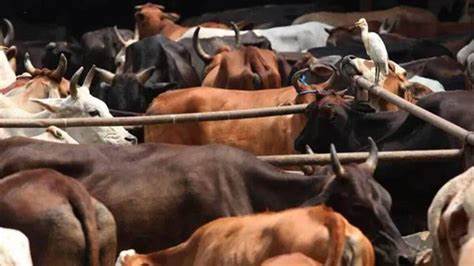 Police in Tripura have arrested four cattle smugglers and rescued 14 cows in an operation near the India-Bangladesh border. The police acted on a tip-off and stopped a truck carrying the cows in the border town of Sabroom. The smugglers attempted to flee but were caught and arrested by the police. The rescued cows were handed over to the Animal Resources Development Department for further care.
According to police sources, the smugglers were attempting to transport the cows to Bangladesh, where they would have been sold at higher prices. The illegal transportation of cattle has become a growing concern in the region, with smugglers taking advantage of the porous border to conduct their activities. The police have been conducting regular raids in an effort to curb the illegal trade.
The four arrested smugglers were produced before a local court and have been remanded in custody. The police have also launched an investigation into the smuggling network in the area and are working to identify other members of the network. The operation is part of a larger crackdown on illegal activities in the region and demonstrates the police's commitment to maintaining law and order in Tripura.