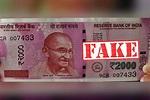 The cases of fake currency Rackets are rising in Assam. Assam police are being so attentive and continuously raiding suspicious places.
The Nagaon police on Tuesday seized currency notes worth over rupees 20 lakh as well as printing machines during a massive operation.
Police arrested four people including a woman in connection with a fake currency Racket.
On Tuesday, Nagaon police conducted a raid in Guwahati's Hatigaon area and detained fake currency worth over 20 lakhs.
Yesterday, a fake money scam was also busted by Assam police in a late-night operation at the Lengripara area in Mangaldoi of Darrang district and arrested six persons, including three women, in connection with the case.
Reportedly, police have detained Saddiqul Islam, Mofizul Islam, Aizul Rahmana and Rima Baishya.