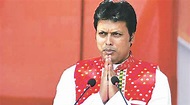 The health system in Tripura has undergone major changes at present. Rajya Sabha MP and former Chief Minister of Tripura Biplap Kumar Deb claimed this at the mega health camp in Khowai Town Hall today.
He said that with the inspiration of Prime Minister Narendra Modi, the second phase of Sansad Health Camp was organized at Khoai Town Hall with priority given to the health protection of citizens. On this day, health conscious citizens from nearby areas including Khoai have benefited from its services to a large extent. He said that such health camp will be organized in one more district in Tripura.
He claimed that under the leadership of Prime Minister Narendra Modi, there has been a great change in medical services in the country as well as in Tripura. The first camp was held at Mohanpur Swami Vivekananda Maha Vidyalaya on Friday. A mega self-help camp was held today at Khoi Tien Hall. Likewise, a mega health camp will be held tomorrow at Shantirbazar Girls High School.