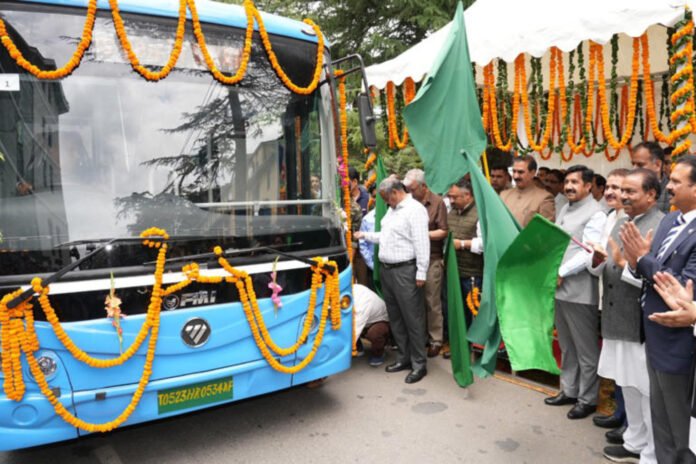 Himachal Pradesh Takes a Step Towards Green Mobility: E-Bus Count in Shimla Rises to 70
In a bid to promote eco-friendly transportation, Himachal Pradesh Chief Minister Thakur Sukhvinder Singh Sukhu inaugurated 20 new electric buses from Chaura Maidan in Shimla. With this addition, the total number of e-buses in the town has reached 70, reflecting the government's commitment to sustainable mobility.
During the event, Chief Minister Sukhu highlighted that the Himachal Road Transport Corporation (HRTC) currently operates a fleet of 90 electric buses across various districts, including 17 in Kullu, 5 in Mandi, 3 in Bilaspur, and 50 in the Dhalli Depot of Shimla. Recently, an additional 15 e-buses were introduced in the HRTC fleet stationed in Dharamshala.
One of the key advantages of these e-buses is their operational cost, which amounts to approximately Rs. 25 per kilometer. This significantly lower cost compared to diesel buses makes them not only environmentally friendly but also economically viable.
Emphasizing the environmental benefits, Chief Minister Sukhu stated that promoting e-mobility would contribute to reducing carbon emissions and preserving the natural environment. As part of the ongoing efforts, HRTC has already initiated a tender process for procuring 75 Type-I e-buses to serve Shimla Local and Nadaun, while technical specifications have been finalized for 225 Type-II e-buses to replace existing diesel buses.
Looking ahead, the state government has set an ambitious goal of replacing the entire fleet of 1,500 HRTC buses with e-buses in a phased manner. Alongside, the necessary infrastructure is being developed to support the growing e-bus network. Moreover, these electric buses will also be deployed on tourist circuits, enhancing the overall experience for visitors.
The Chief Minister expressed the government's determination to transform Himachal Pradesh into a 'Green Energy State' by March 31, 2026. To achieve this vision, the state budget has allocated provisions aimed at facilitating the transition towards sustainable energy practices.
In a symbolic gesture, Chief Minister Sukhu himself boarded one of the e-buses and traveled from Chaura Maidan to the HP Secretariat to attend a Cabinet meeting, showcasing his commitment to promoting eco-friendly transportation and leading by example.
With the introduction of these new e-buses and the government's long-term plans for electrifying the transportation sector, Himachal Pradesh is poised to become a frontrunner in sustainable mobility, paving the way for a greener and cleaner future.