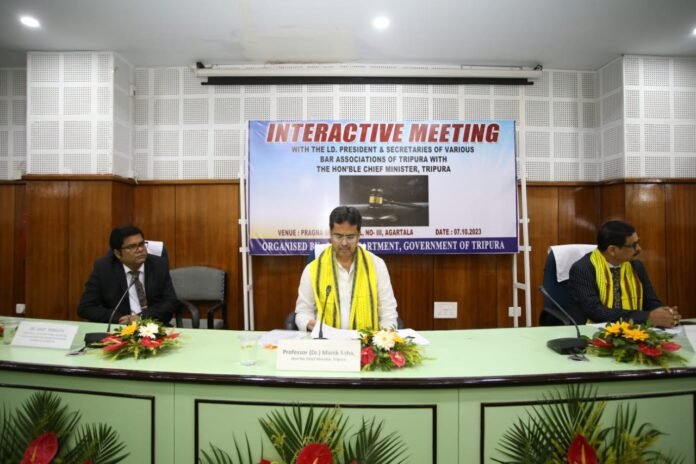 Hon'ble Chief Minister Dr. Manik Saha emphasized the imperative need for heightened collaboration between law enforcement agencies and legal practitioners. The discussion, attended by Presidents and Secretaries of various Bar Associations, delved into pressing concerns regarding criminal justice.
The Chief Minister expressed concern over the alarming trend of criminals, particularly those involved in drug trafficking, securing bail with disconcerting frequency. He underscored the importance of a seamless partnership between legal representatives and the police force to ensure that criminals face due process and penalties.
Dr. Saha stated, "Criminals, especially those engaged in drug-related activities, must not evade proper trials. It is essential for lawyers and law enforcement to work hand-in-hand towards this shared goal."
Acknowledging the pivotal role of public prosecutors, Dr. Saha urged them to exhibit diligence and commitment in bringing perpetrators to justice. He further assured the legal fraternity of the government's unwavering commitment to bolstering infrastructure for the convenience of bar association members, including government lawyers.
The Chief Minister affirmed, "The state is dedicated to providing the necessary resources for the development of legal infrastructure. Whatever needs to be undertaken in this regard will be executed promptly."
However, Dr. Saha also issued a stern warning, asserting that any negligence on the part of the police force or government lawyers would not be tolerated under any circumstances.
The interactive meeting served as a platform for constructive dialogue between the government and legal representatives, fostering a collective resolve to uphold the integrity of the criminal justice system.