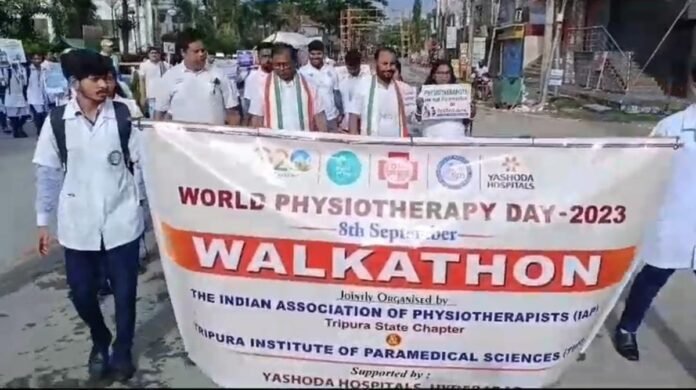 Every year on September 8, World Physiotherapy Day is celebrated to honor the significant contributions of physiotherapists in the healthcare sector. In Tripura, this important day was commemorated with great dignity, highlighting the pivotal role of physiotherapy in promoting health and well-being. Under the collaborative efforts of the Indian Association of Physiotherapy, Tripura State Chapter, and the Tripura Institute of Paramedical Sciences, a Walkathon was organized in the capital city, demonstrating the commitment to raising awareness about the importance of physiotherapy.
Physiotherapy's Holistic Approach:
Addressing the gathering, Director Satyabrata Nath emphasized that physiotherapy extends beyond merely restoring physical damage; it plays a crucial role in preventing future injuries. The holistic approach of physiotherapy actively engages patients in adopting a healthier lifestyle and self-care practices. This comprehensive approach not only facilitates recovery but also empowers individuals to take charge of their well-being.
Theme: "Understanding the Role of Physical Therapy in Arthritis Management":
This year's theme, "Understanding the Role of Physical Therapy in Arthritis Management," sheds light on the critical aspect of preventing and managing arthritis. Arthritis is a condition that affects the joints, often leading to severe pain, stiffness, and inflammation. As individuals age, these symptoms can worsen, significantly impacting their quality of life. Director Nath emphasized that physiotherapy plays a pivotal role in managing the pain associated with arthritis. Through tailored interventions and exercises, physiotherapists can alleviate discomfort and enhance the mobility of individuals dealing with arthritis.
The Significance of Physiotherapists:
Director Nath took pride in acknowledging the vital role played by physiotherapists in the healthcare sector. He highlighted that physiotherapists are particularly essential for the elderly, women, and athletes involved in various sports. Physiotherapists assist individuals in recovering from injuries, improving their physical function, and achieving optimal health. Their expertise is instrumental in enhancing the overall well-being of the community.
Blood Donation Camp:
In addition to the Walkathon, a blood donation camp was organized at AD Nagar Police Lines, emphasizing the spirit of giving and community welfare. The event was graced by the presence of Dr. Kiran Kumar, West Tripura District Superintendent of Police, Birbhan Debnath, President of IAP Tripura Chapter, and other dignitaries who recognized the significance of the occasion.
The celebration of World Physiotherapy Day in Tripura serves as a reminder of the invaluable contributions of physiotherapists in the field of healthcare. Their holistic approach to healing, preventive care, and patient empowerment plays a crucial role in improving the lives of individuals dealing with various health challenges, including arthritis. As physiotherapists continue to make a difference in the well-being of their communities, their dedication and expertise are deserving of recognition and appreciation.