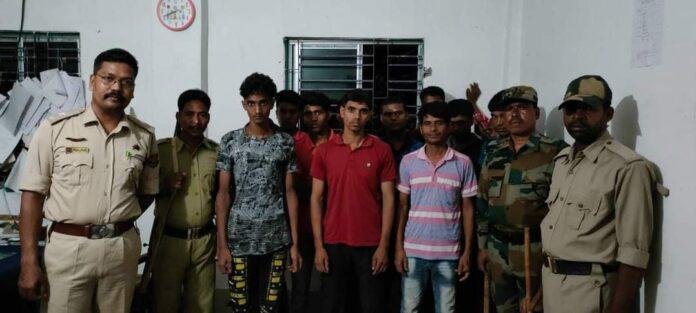 The Tripura Police on Saturday, August 20 under the Simna constituency arrested 12 Bangladeshi intruders residing illegally in the region. The police, as per reports, at the time of the arrest recovered fake Aadhar Cards and many other fake IDs from the illegal intruders arrested on Saturday.
The arrest of the illegal intruders was possible for the police because of the active initiative taken by the Simna Constituent Assembly's Ex-MLA Sri Brishaketu Debbarma.
Brishaketu Debbarma in 2018 was elected as the MLA of the Simna Constituency under the candidature of the Indigenous People's Front of Tripura party but later, resigned in the year 2021 prior to the completion of his term amid speculations that Debbarma will join the Pradyot Bikram Manikya-led Tipraha Indigenous Progressive Regional Alliance party commonly known as the TIPRA or the Tipra Motha.
Apart from Brishaketu Debbarma the dignitaries of Tipra Motha too played a significant role in assisting the police in the arrest of the 12 intruders on Saturday.
The Tipra Motha is a regional party in the Northeastern state of Tripura, which since its inception in the year 2019 under the leadership of Pradyot Bikram Manikya, the son of Tripura's last Maharaja Kirit Pradyot Manikya, has been actively raising its voice for the cause of creating a new state, the 'Greater Tipraland' under Article 2 & 3 of the Indian Constitution. "Pulia Jati, Ulo Party" meaning, 'Community first party later' has been the slogan of the party since its creation and emphasizes Tipra Nationalism and Tipraland creation as its main objective.