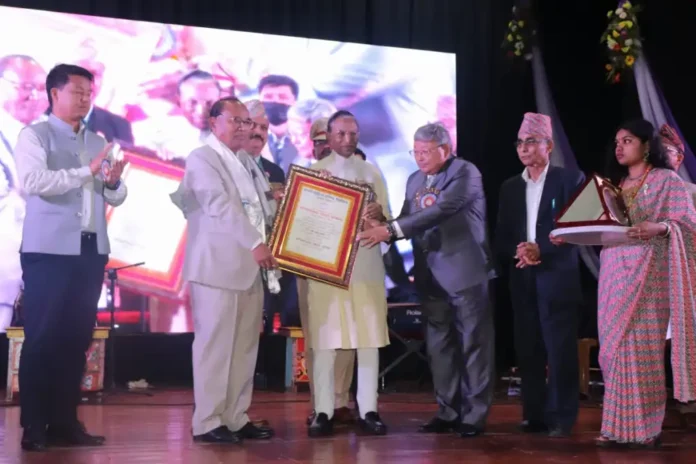 Sikkim today, on August 20, to mark 30 years of the day Nepali language was included in the eighth schedule of the Indian constitution celebrated the 30th Nepali Bhasha Manyata Diwas and some of the respectable personalities who have restlessly through their commendable works have contributed to the development of the language and have brought accolades to the wider Nepali community's pride and glory were honored and felicitated in an award ceremony held by the Sikkim Nepali Sahitya Parishad to commemorate the day.
The Sikkim Nepali Sahitya Parishad awarded its prestigious Kanchenjunga Rashtriya Sahitya Purashkar to three prominent Nepalis in three different categories. While Bikram Bir Thapa was awarded with the prestigious award in the field of arts, Ranjeet Gazmer from Mumbai, on other hand, was awarded for music and Padmashri Gadul Singh Lama from Sikkim was awarded the same for Literature.
While a native of Meghalaya, Bikram Bir Thapa is a former Kargil war veteran from the Gorkha Rifles and contributed to the Nepali language through his works such as novels, short stories, an autobiography titled Mera Akhijhyalbata, and is well known for painting Kathmandu's Pashupati Nath Temple, the Padmashri Awardee Gadul Singh Lama also known as Sanu Lama, on the other hand, is a Nepali literary stalwart who has immensely contributed to the Nepali language through his well-acclaimed works of literature comprising of novels, short stories, and much more. Lama was honored with the highly prestigious Sahitya Akademi award for his work Mrigatrishna in the year 1993. Some of Lama's other popular works are his short stories Swasni Manchey, Khani Tarma Ekdin, Phurbhale Gaun Chadyo, etc., Aangan Paratira (a travelogue), and an autobiographical novel titled Himalchuli Manitira. He has also published a poem anthology titled Jahan Bagccha Tista Rangit and much more.
Meanwhile, Ranjeet Gazmer from West Bengal's district Kalimpong is a Bollywood musician who is remembered for his music on the Madal (Nepali Musical Instrument). Gazmer was once associated with legends such as RD Barman, Jagjeet Singh, Bappi Lahiri, Jatin-Lalit, Anu Malik, Danny Denzongpa, and many more. Gazmer played the Madal in several popular Bollywood songs such as 'Lekar Hum Deewana Dil' (Yaadon Ki Baaraat), 'Hum Dono Do Premi' (Ajnabee) and 'Hoga Tumse Pyara Kaun' (Zamaane Ko Dikhana Hai).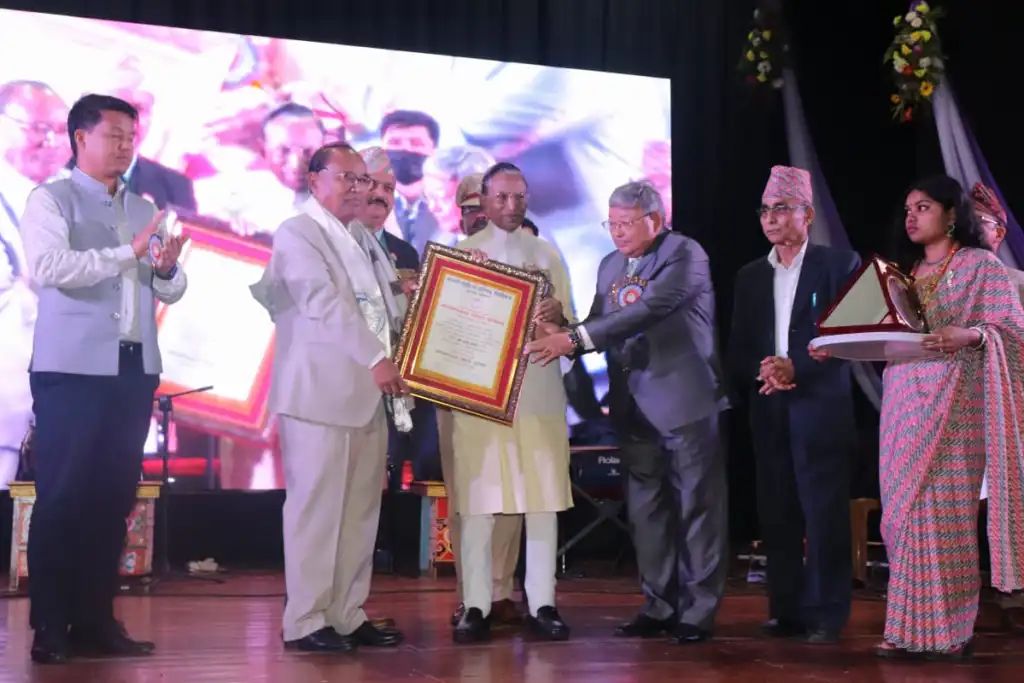 Apart from these stalwarts, the award ceremony also felicitated two students from Sikkim, Jyotsna Sharma and Nar Bahadur Chhetri for securing top ranks in their PGs in the Nepali language. They were felicitated with the Prem Lal Khanal Smriti Purashkar.
Sikkim's Governor Ganga Prasad attended the award ceremony and graced the stage by personally awarding the recipients with their respective awards of honor. Acknowledging the contribution that the people of Sikkim and the wider Nepali community had in getting the language recognized in the eighth schedule of the Constitution of India and addressing everyone present at the award function, the governor said, "Mother tongue or Matri Bhasa is an expression of culture, tradition, history, community, and the country as well. Language is a lifeline of human development and makes society stronger. It is a medium for cultural exploration. The three awardees have contributed to the global propagation of Nepali as a language through their work. They have made the country and the Nepali community proud. Their works inspire the younger generation."