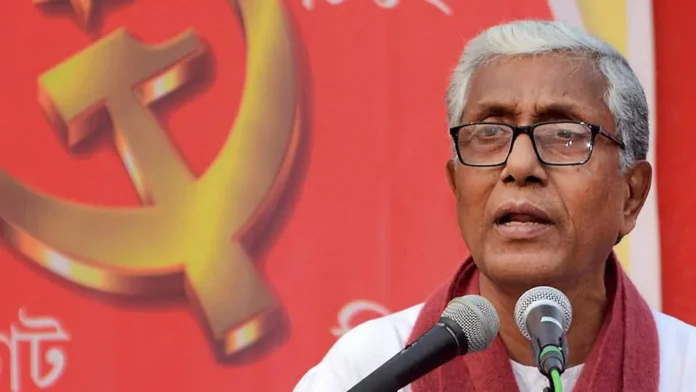 Ex-CM of Tripura and a senior member of the CPI(M), Manik Sarkar on Friday speaking to a press meet vent out his anger on the present Manik Saha-led government's ignorance over the issue of the left-over faction of insurgent groups in the state that poses a serious threat to peace and security in the region. Sarkar speaking to the media says that the government's ignorance regarding the issue has prevailed even after continuous warnings from the opposition.
Sarkar's reaction came soon after the recent incident of the death of a BSF Jawan after being ambushed by the banned NLFT militants in the state along the India-Bangladesh border. The martyred jawan has been identified as Grijesh Kumar Uddey aged 53 and was a havildar in the BSF's 145 Battalion.
"Time and again, I have drawn the notice of the state government and demanded a strong security build-up in the vulnerable areas after every such attack.", says Sarkar expressing his disappointment in the government's ignorance over the insurgency issue and showing less seriousness about the matter.
Th Ex-CM condemning the government's continuous ignorance over the matter goes to the extent of alleging it of backing the insurgent groups in the state for selfish political gains and vested interest of their own. Sarkar in his statement said, "Who are the political personalities using such forces for narrow political gains? On several occasions, newspaper reports have indicated that NLFT is getting political sponsorship for reviving their base again. We have demanded stern action against those people. But no one is there to pay attention to these words.".
The former Chief Minister further criticized the govt. over shifting the Tripura State Rifles(TSR) battalions to other states and cited it as a major reason behind such attacks of the insurgent groups in the state. "We have requested the state government not to disrupt the second line of defense built by TSR personnel. But, the TSR battalions were shifted out for other duties. It is the ignorance of the state government that led to one after another such bloodshed", he claimed
Sarkar speaking to the media also offered his condolences to the family of Martyr Grijesh Kumar and condemned the cowardly act of the banned NLFT group that opened fire on the security forces.