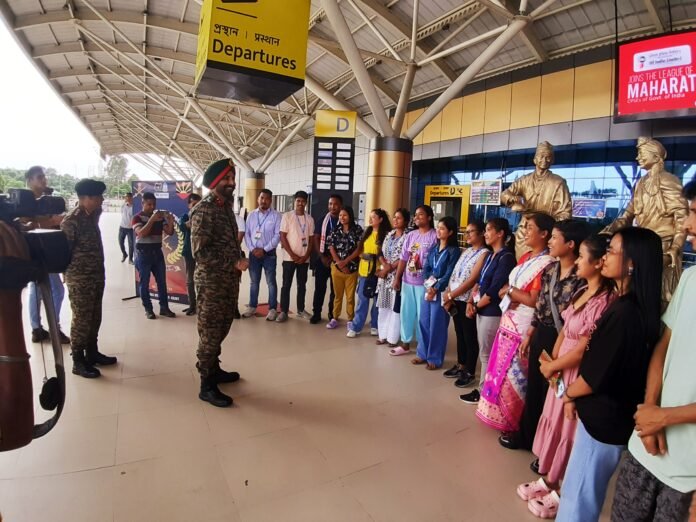 Dibrugarh, September 14: Jimithang and Jangi Paltan Museum in Arunachal Pradesh were the main attractions of the national integration tour for Assamese youths, which concluded at Dibrugarh airport on Wednesday.
The tour was organized by Laipuli Brigade of the Indian Army and Kakopathar, Rupai Army, with the cooperation of the Assamese video creators.
Speaking to the media, Dhurvajyoti Das, one of the participants, said that the Jangi Paltan Museum at Tenga ahead of Lohit in Arunachal Pradesh was a "mesmerizing" experience.
"It is a unit of the Indian Army that is 250 years old. Tiger's skin, silver spoons, furniture of old design, and many antique pieces are kept there. Through it, we came to know the brightest history of our army," he said.
Das also said that Jimithang is a "unique place" that China claims as its own. However, he asserted that it belongs to India.
"The army has opened a school and a cafe there. A man is still alive who had helped our army by supplying necessary items. Densely populated villages are necessary there. It is nearly two hours from Tawang to visit Jimithang," he added.
The tour began on September 3 and covered Assam, Arunachal Pradesh, Meghalaya, and West Bengal. The participants interacted with army officers and civil administrators during the tour.
The team was accompanied by Major Nakul Verma of 19 Grenadiers.
Brigadier Kripal Singh Gill, Colonel Chandrashekhar Joshi, and other high-ranking officers were present at the closing ceremony.
The participants expressed their gratitude to the army for organizing the tour and said that it was a great learning experience for them.