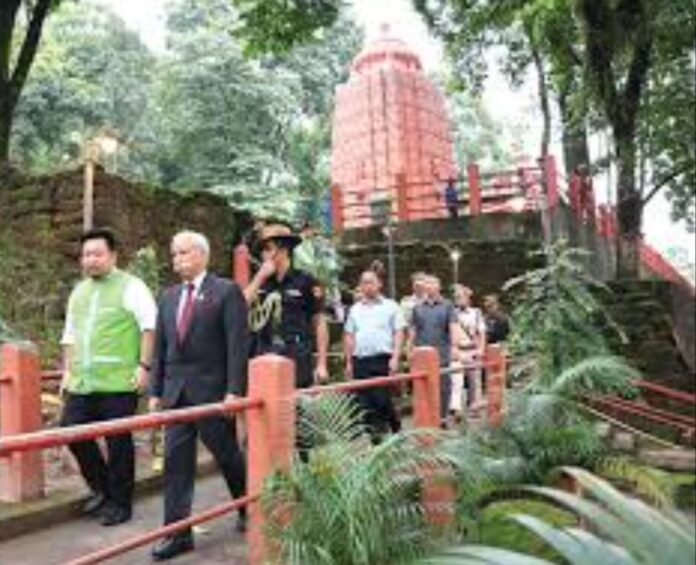 Guwahati: Malinithan, an Aryan period temple related with Lord Krishna and Rukmini was visited by Arunachal Pradesh's governor on Saturday. 
Malinithan temple is located at Likabali in Lower Siang district close to Assam border .
Governor Lt General ( Retd ) KT Parnaik saw the exavated remains of the temple, while being briefed by an official of state's Research Directorate about the archeological site and new findings.
Parnaik offered religious rituals in the temple.
" Malinithan temple is a pious and well preserved monument. It's a great tourist attraction for visitors to Arunachal Pradesh " The governor said .
" I suggest to further beautify the temple complex and maintain cleanliness to increase the footfall of visitors and devotees to the temple. " He further said.
Located in the foothills of the Siang hills, hardly a kilometer from the Likabali, Malinithan Temple was once an extravagant site but now completely in ruins. It was in early 20's, between 1968 and 1971, all these relics were unearthed on this site. The ruins found nearby the temple indicates that it was built with granite stones during the period of Aryan influence in the region, which is quite unique as most of the temples in Northeast are build with bricks.
There's an intriguing story associated with the name of the temple, according to which Krishna eloped with Rukmini, the daughter of King Bhishmaka of Vidarbha, and then traveled from Bhishmakanagar to Dwarka. During their journey, they stopped at Malinithan, where they received a wall welcome and was presented with garlands made of flowers plucked from her orchard. Krishna was so much fascinated by the scent of a flower that he addressed Parvati as Malini, meaning "the mistress of the garden." That's how the place got its name – Malinithan. As per another story, the image of a female without the head was unearthed during the excavations, which represented Malini who was the lover of Shiva. The image of the goddess Durga found here is known as "Pupane", an ancient name for the Divine Mother.
At the time when the temple was in the excavation process, four sculptures of lions on two elephants was found. The granite sculptures of Indra riding his mount Airavata; Kartikeya riding a peacock; Surya (Sun) riding a chariot, and Ganesha mounted over a mouse, and a large Nandi bull were also found here. There are some erotic sculptures to see too in different postures, which means that at the time when temple was in making process, tantrism prevailed here as a fertility rite of the tribal people.
The Malinithan archaeological site is located at the base of the Siang mountains in the Likabali. Malinithan is quite a prominent attraction of Arunachal Pradesh. From all the major nearby hubs, you can get buses to reach Malinithan.