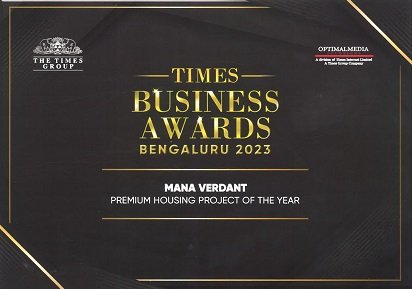 MANA, a widely recognized and renowned real estate brand, has officially announced the momentous achievement of MANA Verdant, their distinguished residential project, in being bestowed with the prestigious accolade of Premium Apartment Project of the Year 2023 at the esteemed Times Business Awards. This remarkable recognition stands as an undeniable testament to MANAs unwavering dedication to exceptional quality, relentless innovation, and an unwavering pursuit of excellence inspiring the entire real estate community and motivating them to exceed expectations and strive for unparalleled quality in all their endeavors.
MANA Verdant Receives Top Honor as Premium Apartment Project of the Year 2023
The Times Business Awards serve as a noteworthy celebration of innovation, achievement, and entrepreneurial spirit. This grand event casts a radiant spotlight on remarkable individuals who actively drive the economy and contribute to the betterment of society through their endeavors. The primary objective of this gathering is to foster collaboration among like-minded organizations, offering leaders from diverse industries a distinctive opportunity to engage in networking, learning, and knowledge-sharing. The award for Premium Apartment Project of the Year specifically acknowledges the outstanding standards exemplified by MANA Verdant, reaffirming its position as a leader in luxury living through its exceptional architecture, design, amenities, and unwavering commitment to customer satisfaction.
Nestled in a prime area of the city, MANA Verdant offers a harmonious blend of opulence, elegance, and sustainability. In the fast-paced lives of geriatric millennial home-buyers who juggle numerous responsibilities both personally and professionally, MANA Verdant offers a serene living environment that revitalizes their lives. As the tallest tower in its vicinity, this exceptional project makes a prominent statement in the citys skyline. This magnificent vantage point exemplifies the projects dedication to delivering an unparalleled living experience that seamlessly blends awe-inspiring natural beauty with urban sophistication.
Upon receiving this prestigious award Mr. Kishore Reddy, CMD, MANA expresses his gratitude and says, "We are truly honored to receive the Premium Apartment Project of the Year award from the Times Business Awards. This recognition is a testament to our unwavering commitment to excellence and our dedication to creating exceptional living spaces for our customers. The award is a testament to MANA's continuous pursuit of excellence and its commitment to setting new industry standards. MANA Verdant represents the pinnacle of our efforts, and we are delighted that its unmatched quality and design have been acknowledged on such a prestigious platform."
The success of MANA Verdant is attributed to the collective efforts of the talented team at MANA, who have ensured quality checks and worked tirelessly to bring this vision to life. The project has garnered widespread acclaim for its attention to detail, utilization of premium materials, and ability to provide residents with a luxurious, yet sustainable and nature-filled living experience.
For more information about MANA Verdant and other esteemed projects by MANA, please visit their official website at www.manaprojects.com.
About MANA
MANA, founded in 2000 by Mr. D. Kishore Reddy, has evolved over the past two decades to become a revolutionary force in the real estate market. Headquartered in Bengaluru, the company is expanding across business verticals, including property development and construction, with plans to expand its footprint to Hyderabad.
With a commitment to green living, MANA has built a wealth of expertise in design, construction, and development, spanning across a spectrum of entry-level homes (through its brand, MACASA) to premium and luxury homes. The companys mission is to provide future-forward living that blends nature with dream spaces, using imagination to engineer homes for the next generation of homebuyers.
MANAs tagline, 'Live Brilliantly,' encapsulates the companys multidisciplinary approach to design, blending tomorrows technologies with todays reality. With more than 8 million sq. ft developed to date, MANA consistently delivers innovative, high-quality homes that exceed customer expectations.
​