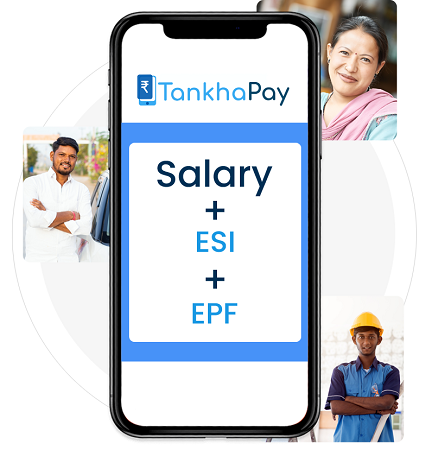 Indias first social security app, "TankhaPay," developed by Akal Information Systems Ltd., has received 2.7 million USD in funding from prominent Japanese investors. This app helps employers cover their informal, gig, and temporary workers under government schemes of PF and ESI, ensuring the financial and social security of workers by formalizing their payroll and covering them under social security benefits. The company aims to promote the use of TankhaPay in a wider market segment. The TankhaPay app covers all workers of the informal sector under government social security benefit schemes.
TankhaPay App
Social security for gig and informal workers is the need of the day. However, companies are struggling to offer social security to their informal and gig workers because they are not regular employees. These workers do not work full-time but work for multiple companies simultaneously and earn on a gig basis. TankhaPay fills in the gap by converting these gig compensations from multiple companies into a formalized salary to provide PF and ESI to the workers. Additionally, startups and small businesses that do not have the means to provide social security and are looking for easier ways to manage payrolls of their workers can use the app.
When asked about the company founders, "AKAL Information Systems Ltd. was founded by Mr. Sarabjit Singh and Ms. Sukhneet Kaur. Mr. Sarabjit Singh is an Engineering Graduate and has an executive MBA from IIM (Kozhikode). He is an incisive and strategic leader with 25+ years of experience. Ms. Sukhneet Kaur has a Masters Degree in Physics (Hons) from the University of Delhi with a penchant to train and manage Human Capital."
AKAL means beyond time, and it reflects the companys processes to deliver timeless service. TankhaPay is AKALs initiative to use cutting-edge technology to transform the way workers are employed, paid, and looked after.
"Launched in April 2023, TankhaPay is Indias first app that streamlines social security benefits for informal, gig, and temporary workers. Employers, including MSMEs, startups, and large platforms, can provide benefits like EPF (employee provident fund) and ESI (employee state insurance) to informal staff by using the app," said the project leader from AKAL. She added further, "It is hassle-free to use, cost-effective, and a time-saving tool."
She highlighted their latest achievement and said, "AKAL received 2.7 million USD in funding from four Japanese investors, including ALES Global Investment Partnership and ELAN Corporation. The investors want to expand TankhaPays scope and take it to the MSME and e-commerce platforms that employ large groups of informal workers in India. This will help millions of informal, GIG, and temporary workers become eligible to receive government benefits of EPF and ESIC. This is a great way for employers to showcase their social spirit and assist their informal workers to lead secure lives."
Mr. Sarabjit Singh, Founder, TankhaPay
Mr. Sarabjit Singh spoke about the TankhaPay app and how he is delighted to work with investors in promoting social responsibility among MSMEs, large e-commerce platforms, and other sectors employing informal workers. He said, "During the COVID-19 pandemic, informal workers were the largest group impacted and migrated back to their hometowns and businesses suffered losses due to a lack of manpower."
He added, "This situation made us wonder and forced us to think, what if all these workers had social security benefits Not only workers but also their families should have the access to resources to survive the pandemic so that they dont figure out ways to migrate in the middle of a crisis. TankhaPay was born with the vision to help informal workers lead a secure life and help businesses have a better experience retaining manpower."
Development of the TankhaPay App
A whopping 93% of the five hundred million Indian workforce belongs to the unorganized sector. Almost all these workers dont have access to social security benefits that the government provides to employees in the organized sector. With low wages, uncertain jobs, and zero benefits, many informal workers struggle to live a happy and secure life. Many of them dont even have access to reliable healthcare. But what if the employer could help workers avail government social security benefits Wouldnt it help to lead better lives and save for the future
Benefits of TankhaPay
Providing social security benefits to informal workers helps them lead better lives with dignity and strengthens relationships with their employers. It also makes them loyal and increases productivity. Providing workers with social security helps organizations increase recruitment by 57% and retention by 51%. This application will cater to the workforce to be more loyal to the employers by 60% and reduce the absenteeism rate by 43%.
You can use the app to pay salaries and benefits for any number of workers as it is suitable for individuals, households, start-ups, MSMEs, government agencies, and much more. Through this application, users can streamline attendance and payments as it is a user-friendly app with a clean interface and no complex features.
When an employer takes care of the workers, they develop strong bonds that have a positive impact on productivity and performance.
Most people prefer to work with employers who treat them well and protect their needs. TankhaPay makes this possible in the simplest manner. No need for complicated paperwork or PF, ESI registrations. Just go to Google Play Store or Apple App Store and download the app.
About the company
AKAL Information System Ltd. has over 20 years of experience in the technology and staffing industry. It works with organizations and professionals to change how workers are employed, paid, and looked after. The company offers 360-degree solutions to streamline the Indian workforce across various industries. AKAL is CMMi level 3 certified.
For more information, please visit websitewww.tankhapay.com.
​