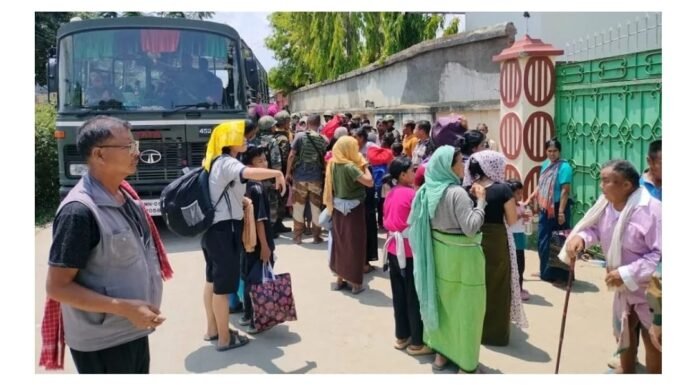 Guwahati: In a significant operation, troops of the Indian Army successfully apprehended 22 individuals involved in nefarious activities, along with a cache of weapons and war-like stores. The operation took place in the Imphal East district of Manipur, showcasing the Army's unwavering commitment to maintaining peace and security in the region.
Acting on credible intelligence, the Indian Army swiftly launched the operation in collaboration with local authorities, aiming to counter the growing menace posed by anti-social elements. The joint effort proved fruitful as the troops effectively carried out the mission, ensuring the safety of civilians and the restoration of law and order.
During the operation, the Indian Army confiscated a significant number of weapons and war-like stores from the apprehended individuals. The seized items included firearms, ammunition, explosives, and other materials that could potentially disrupt peace and stability in the area. This successful seizure will undoubtedly cripple the capabilities of miscreants who sought to engage in unlawful activities.
The operation sends a strong message to those attempting to disturb peace in Manipur. The Indian Army remains dedicated to safeguarding the well-being of citizens and protecting the sovereignty of the nation. This swift and decisive action demonstrates the Army's resolve to neutralize threats and ensure a secure environment for the residents of Manipur.
The Indian Army and local authorities are conducting further investigations to determine the identities of the arrested individuals, as well as their affiliations and intended plans. This will aid in unraveling any possible connections to larger networks involved in criminal or anti-national activities.
The successful operation serves as a testament to the strong synergy between the Indian Army and local law enforcement agencies. Their joint efforts are instrumental in upholding the rule of law and deterring those who seek to disrupt peace in Manipur.
The Indian Army remains committed to its duty of protecting the nation and its citizens, and such operations reaffirm their dedication to maintaining peace and security in the region. The apprehension of 22 miscreants and the confiscation of weapons and war-like stores represent a significant blow to unlawful activities in Manipur, reinforcing the resolve to ensure a peaceful environment for all residents.