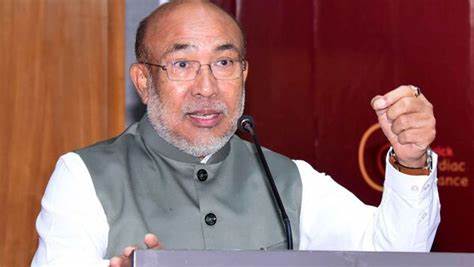 On the 4th of May, 2023, Manipur witnessed a series of violent clashes between two communities that left several people injured and properties damaged. The clashes began in the afternoon and continued until late at night, causing panic and fear among the residents of the affected areas.
In the aftermath of the violence, Manipur Chief Minister Biren Singh addressed the media and called for calm. He stated that the riots were the result of a misunderstanding between the two communities and assured the people that the government would take all necessary measures to ensure their safety and security.
The violence erupted in the Thangmeiband area of Imphal West district, where a group of people belonging to one community allegedly attacked members of another community. The incident quickly escalated, with both sides resorting to stone-pelting and using other weapons. The police had to intervene to bring the situation under control.
According to the Chief Minister, the violence was sparked by a misunderstanding between the two communities over a trivial issue. He stated that the government had taken note of the incident and would take strict action against the perpetrators of the violence.
The Chief Minister appealed to the people to maintain peace and harmony in the state and not to resort to violence under any circumstances. He stated that the government was committed to ensuring the safety and security of all its citizens and would take all necessary steps to prevent such incidents from happening in the future.
Meanwhile, the police have launched an investigation into the incident and have arrested several people in connection with the violence. The authorities have also imposed curfew in the affected areas to prevent any further clashes.
The violence in Manipur has once again highlighted the need for better communication and understanding between different communities. The state has a long history of communal tensions and violence, and incidents like these only serve to exacerbate the problem.
It is important for the government and civil society to work together to promote peace and harmony in the state. This can be achieved through dialogue, education, and outreach programs that help to build bridges between different communities and foster greater understanding and tolerance.
The violence in Manipur is a reminder that we must all work together to promote peace and harmony in our society. It is only through mutual respect and understanding that we can overcome the challenges that divide us and build a better future for ourselves and future generations.