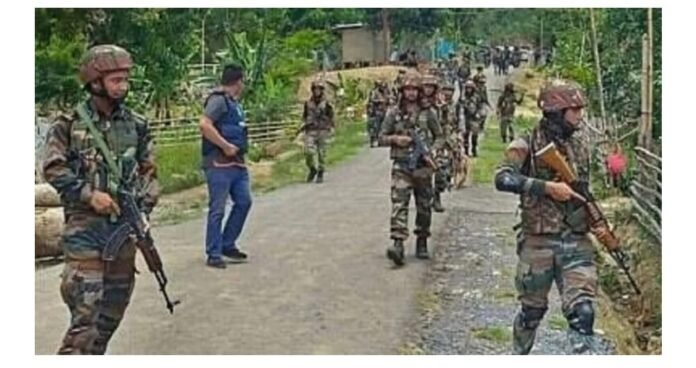 In a disturbing turn of events, a fresh clash unfolded on Friday evening between personnel of the Rapid Action Force (RAF) and an unruly mob in Imphal, Manipur. The confrontation escalated to the point where a warehouse was set ablaze, exacerbating tensions in the area.
The incident, marked by heightened emotions and violence, underscores the fragility of the situation and the urgent need for resolution. While specific details surrounding the clash remain limited, the clashes reflect the simmering tensions prevailing in the region.
Authorities were prompted to intervene as the situation escalated, deploying the RAF to maintain law and order. However, the efforts to control the unruly mob turned into a violent standoff, leading to injuries on both sides. Reports indicate that a significant number of security personnel and civilians sustained injuries during the clash.
As the confrontation spiraled out of control, a warehouse in the vicinity fell victim to the chaos, with the mob setting it ablaze. The inferno rapidly engulfed the structure, causing extensive damage to the property and intensifying the sense of chaos and destruction.
Local authorities have expressed concern over the incident, emphasizing the need for calm and restraint from all parties involved. They have called for an immediate investigation into the matter to determine the cause of the clash and hold those responsible accountable for their actions.
Efforts are underway to restore peace and normalcy in the affected area. Additional security personnel have been deployed to prevent any further escalation of violence. The authorities have also appealed to the public to cooperate and refrain from engaging in any activities that may aggravate the situation.
The incident has garnered attention from various quarters, with political leaders and civil society organizations urging for swift action to address the underlying issues and find a lasting solution. They have emphasized the importance of dialogue and constructive engagement to prevent such clashes in the future and promote harmony within the community.
The clashes in Imphal serve as a stark reminder of the challenges faced by authorities in maintaining law and order, particularly in regions where tensions persist. It is essential for all stakeholders to come together, engage in meaningful dialogue, and find mutually acceptable solutions to prevent the recurrence of such incidents.
As the situation in Imphal remains tense, the immediate focus must be on restoring calm and facilitating a comprehensive investigation into the clashes. The authorities must work diligently to ensure that justice is served, while also prioritizing efforts to promote peace and stability in the region.