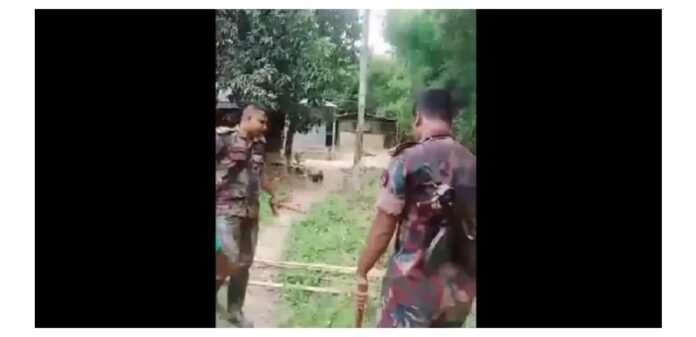 TURA: In a recent incident, two personnel belonging to the Bangladesh Border Guards (BGB) have been accused of intruding into Indian territory within the South Garo Hills district of Meghalaya. The alleged incursion has raised concerns over border security between the two neighboring countries.
According to local reports, the incident occurred along the border areas, where the BGB personnel crossed the international boundary into Indian territory. The specific motive behind their entry remains unclear at this time.
The South Garo Hills district, situated in the state of Meghalaya, shares a border with Bangladesh. This region has witnessed sporadic incidents in the past, highlighting the challenges of maintaining border security.
The intrusion has prompted Indian authorities to take immediate action. The Border Security Force (BSF), responsible for guarding the Indian border, has been alerted about the incident. Officials from the BSF and other relevant agencies are coordinating efforts to address the situation and ensure the safety and security of the region.
Border disputes and unauthorized border crossings are not uncommon along international boundaries. Incidents like these necessitate close coordination and communication between neighboring countries to maintain peace and security in the border areas.
Efforts are currently underway to establish communication with the BGB to address the matter through diplomatic channels. Such incidents are usually resolved through bilateral discussions and engagements between the concerned authorities to prevent escalation and maintain the overall peace and stability in the region.
The alleged intrusion serves as a reminder of the importance of robust border management systems and regular patrolling to safeguard the integrity of international borders. Both India and Bangladesh have been engaged in various initiatives to enhance border security and promote cooperation, including joint patrolling and coordinated efforts to address transnational challenges.
As the situation unfolds, it is expected that both sides will work towards a swift resolution, adhering to established protocols and emphasizing the importance of peaceful coexistence. Local residents in the affected areas are urged to remain vigilant and report any suspicious activities to the authorities to ensure the safety and security of the region.
The incident highlights the ongoing need for sustained efforts and cooperation between neighboring countries to maintain border security, prevent unauthorized intrusions, and foster a peaceful and prosperous environment along the international boundaries.