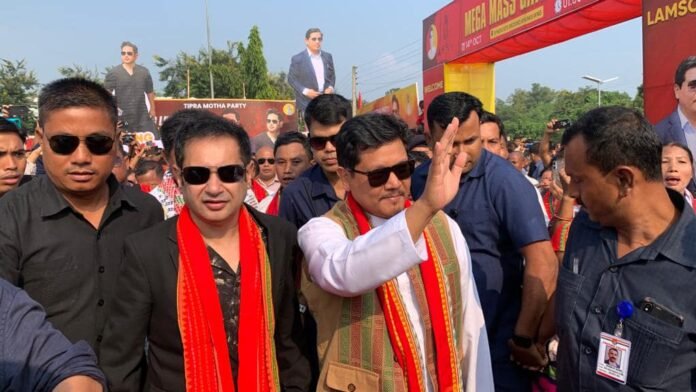 The Tipra Motha Party orchestrated a massive gathering in Khumulwng. The event witnessed the participation of numerous MLAs, MDCs, and EMs from the Tipra Motha Party, along with thousands of devoted supporters.
The highlight of the gathering was the presence of special guest Meghalaya Chief Minister, Conrad Sangma, who delivered a powerful address. Sangma emphasized the imperative need for indigenous communities across Northeast India to stand united, setting aside minor differences, in pursuit of a constitutional solution that addresses the concerns of the region's tribals. The event took place at the Tripura Tribal Areas Autonomous District Council (ADC) headquarters in Khumulung.
Sangma, accompanied by a contingent of MLAs from Meghalaya, joined the rally to demonstrate solidarity and extend unwavering support to the movement for a greater Tipraland and a constitutional resolution for the indigenous communities of Tripura. These efforts have been spearheaded by the Tipra Motha Party, under the dynamic leadership of Tripura's royal scion, Bubagra Pradyot Kishore Debbarma.
Addressing the gathered multitude, Sangma remarked, "Despite minor differences among the tribal communities of the Northeast, our identity is similar to the rest of the country. Although we are identified as a Northeastern community by Delhi, our issues are not dealt with together. As a result, the indigenous people of the region have been facing multiple problems, and the time has come to become united and raise a voice for our rights."
Sangma's impassioned plea for unity resonated deeply, underlining the urgency for a collective, unified front to advocate for the rights and well-being of the indigenous communities of Northeast India.