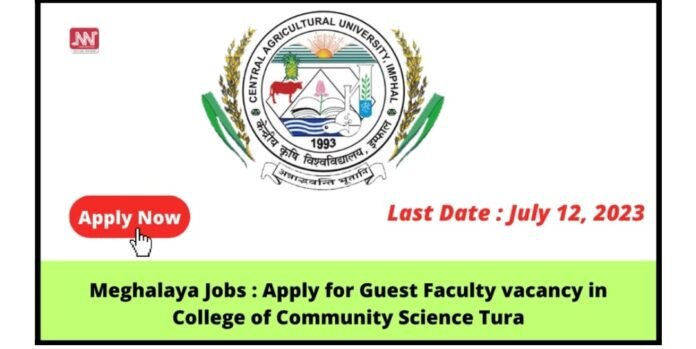 Introduction:
The College of Community Science, located within the prestigious Central Agriculture University in Tura, Meghalaya, is inviting applications for various teaching positions. This announcement brings excellent news for aspiring educators looking to contribute to the field of community science and shape the future of agriculture education. With its commitment to academic excellence and research, the College of Community Science offers a stimulating environment for both faculty and students.
A Prime Educational Institution:
The College of Community Science is a renowned institution that focuses on the interdisciplinary study of agriculture, home science, and community development. By combining these areas, the college aims to foster sustainable practices, empower rural communities, and enhance agricultural productivity in Meghalaya and beyond. This unique approach provides a holistic understanding of the challenges faced by farmers, homemakers, and rural communities, and seeks innovative solutions.
Opportunities for Teaching Positions:
The college is seeking highly motivated individuals to join its esteemed faculty team. Applications are invited for various teaching positions across different disciplines within the field of community science. This presents an excellent opportunity for enthusiastic educators to share their expertise, mentor aspiring students, and actively participate in cutting-edge research endeavors.
Areas of Specialization:
The College of Community Science offers a range of disciplines for potential faculty members to consider. These include:
Agriculture Extension Education
Home Science Extension and Communication Management
Family Resource Management
Food Science and Nutrition
Human Development and Family Studies
Textiles and Apparel Designing
Agricultural Statistics
Horticulture
Soil Science
Plant Breeding and Genetics
Qualifications and Requirements:
Applicants must possess the following qualifications and qualities:
A postgraduate degree in the relevant field of specialization.
Demonstrated expertise and research experience in the respective discipline.
Excellent communication skills and a passion for teaching.
Dedication to promoting sustainable agriculture and rural development.
Ability to engage in collaborative research projects and interdisciplinary work.
Proficiency in relevant software and analytical tools related to the discipline.
Application Procedure:
Interested candidates are requested to submit their applications in the prescribed format. The application form, along with detailed instructions, can be obtained from the official website of the Central Agriculture University. Applicants should provide all necessary documents, including their curriculum vitae, educational certificates, research publications, and a statement of purpose outlining their teaching and research interests.
Important Dates and Contact Information:
The deadline for submitting applications is [mention the deadline date]. For further inquiries or clarifications, candidates can contact the College of Community Science, Central Agriculture University, Tura, Meghalaya, via email or phone. All contact details and additional information can be found on the official website.
Conclusion:
Joining the College of Community Science in Tura, Meghalaya, presents an exciting opportunity for passionate educators to contribute to the advancement of community science, agriculture, and rural development. With a strong commitment to academic excellence and a supportive environment, the college offers a platform for innovative teaching, research collaborations, and sustainable agricultural practices. Don't miss the chance to be a part of this esteemed institution and make a significant impact on the future of agriculture and rural communities.