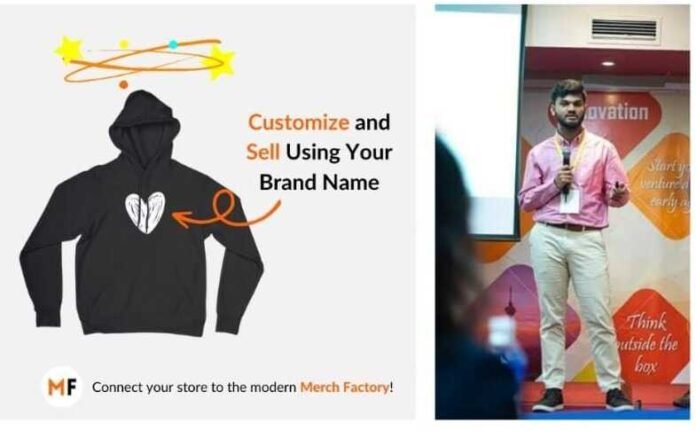 In 2020, Divyansh, a second-year college student at SRM Institute of Science and Technology, Chennai, and his team developed an app that recommends clothing based on the user's personality, earning money through affiliate marketing. However, realizing they could generate more revenue, they launched VOID, a minimalist clothing line. Unfortunately, Divyansh had to stop working on these projects due to a falling out with his partner, a college senior who moved on to other pursuits. Divyansh saw this as an opportunity to determine his next steps.
While reflecting on the challenges of launching a new clothing brand, Divyansh recognised the daunting nature of sorting fabrics, sewing, printing, inventory management, shipping, and marketing. He wondered if he could simplify the process and make it more accessible to anyone who wants to build their brand, including YouTubers, Instagram influencers, and budding entrepreneurs. After graduating from university, he decided to pursue this idea and launched Merch Factory, the only tech startup in the small town of Ashok Nagar, Madhya Pradesh.
Divyansh built Merch Factory from the ground up, sorting materials, adjusting machines, simplifying the process, and printing materials on demand. Merchants who join Merch Factory can now upload their designs and create products using the app, which acts as their virtual warehouse. Once they receive an order, they select the item, enter the shipping address, and Merch Factory ships the product directly to their customer. Merchants can also affix their brand logo on the shipping envelope and collar label to the fabric, ensuring that the end customer feels like they are receiving the product directly from the merchant's brand.
Merch Factory's unique selling proposition is that it offers merchants wholesale pricing, even for single orders, and prints products on demand, eliminating the concept of dead stock. Additionally, Merch Factory offers dropshipping, allowing for direct shipping to the end customer. Finally, merchants can personalize their branding by putting their own logo and brand on their products. Merch Factory eliminates the issue of dead stock in the fabric market, allowing merchants to focus solely on design, marketing, and branding.
As India's e-commerce market is set to reach $200 billion by 2026, Merch Factory aims to be the factory of choice and market leader in print-on-demand. The company is open to collaborations to help achieve this goal and make its mark in the industry.
To learn more about Merch Factory, visit their website at www.merchfactory.in or reach them at Merch Factory, Bilala Mill Road, Ashok Nagar – 473331.