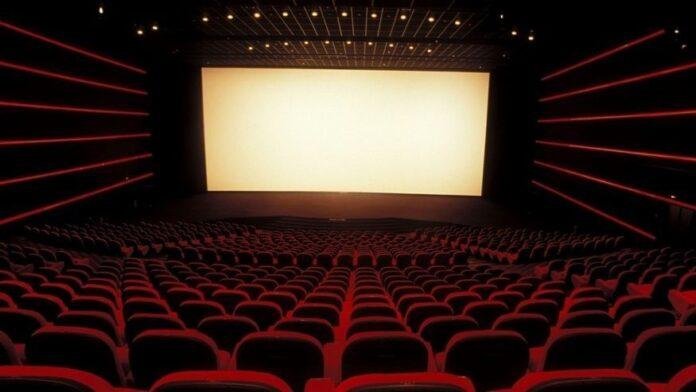 The Multiplex Association of India (MAI) announced that September 16th would be celebrated as India's National Cinema Day a few days ago.
This would mean that many theaters would offer tickets for Rs 75. And as expected, the news pleased all the moviegoers. After all, the average fare is typically higher than Rs. 200
In such a scenario, movie enthusiasts were thrilled because they got an opportunity to watch a movie in a theater at such a cheap rate. However, Bollywood fans need to wait a little longer to enjoy a budget-friendly show.
According to a report by Bollywood Hungama, the MAI has decided to postpone National Cinema Day by one week. The decision was taken to safeguard Ranbir Kapoor's Brahmastra collections, which appeared on screens on 9 September.
The Multiplex Association of India shared a note on their social media saying that "on request from various stakeholders and to maximize participation," they have postponed National Cinema Day. With Brahmastra's release, the footfalls of theatres have increased after a long time so it seems that theatre owners want to maximize their share since the movie has attracted a vast audience.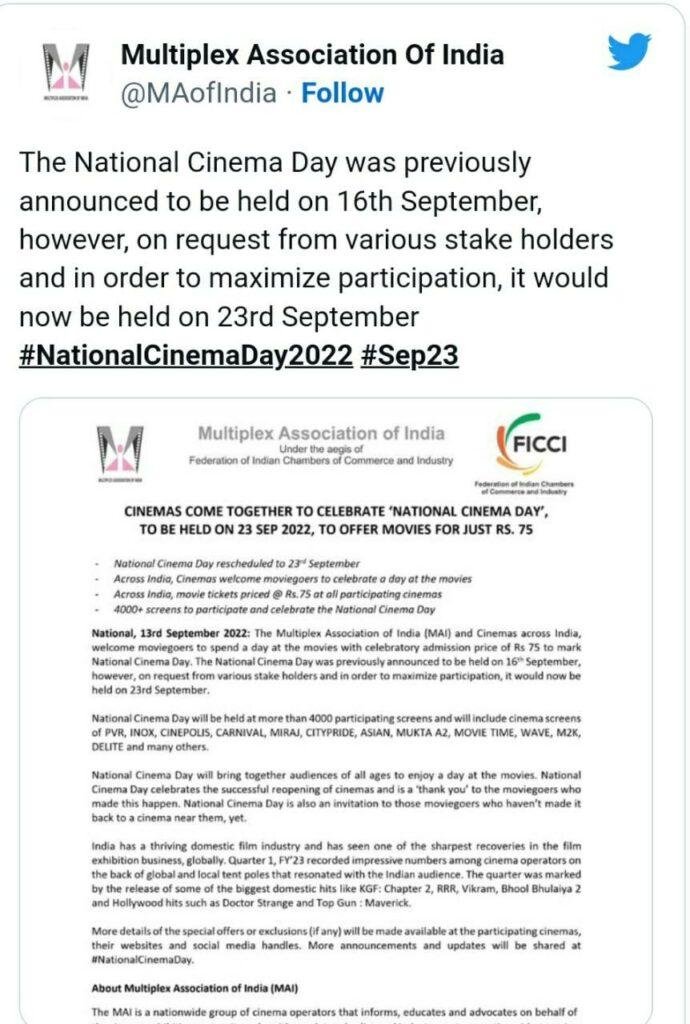 "The Ranbir Kapoor and Alia Bhatt starrer Brahmastra is the dominant film at present and is doing great. It was strong even on Monday, which proves that it'll do strong business on the second weekend too. Disney, who released Brahmastra, therefore asked the multiplex association to push the week-long celebrations. "The MAI and the multiplex teams found merit in their request," a source told Bollywood Hungama
Four thousand screens across cinema chains like PVR, INOX, Cinépolis, Carnival, Miraj, Citypride, Asian, Mukta A2, Movietime, Wave, M2K, Delite, and many others will be offering the tickets for Rs 75.
Their statement further read, "India has a thriving domestic film industry and has seen one of the sharpest recoveries in the film exhibition business, globally. Quarter 1, FY'23 recorded impressive numbers among cinema operators on the back of global and local tent poles that resonated with the Indian audience. The quarter was marked by the release of some of the biggest domestic hits like KGF: Chapter 2, RRR, Vikram, Bhool Bhulaiya 2, and Hollywood hits such as Doctor Strange and Top Gun: Maverick."