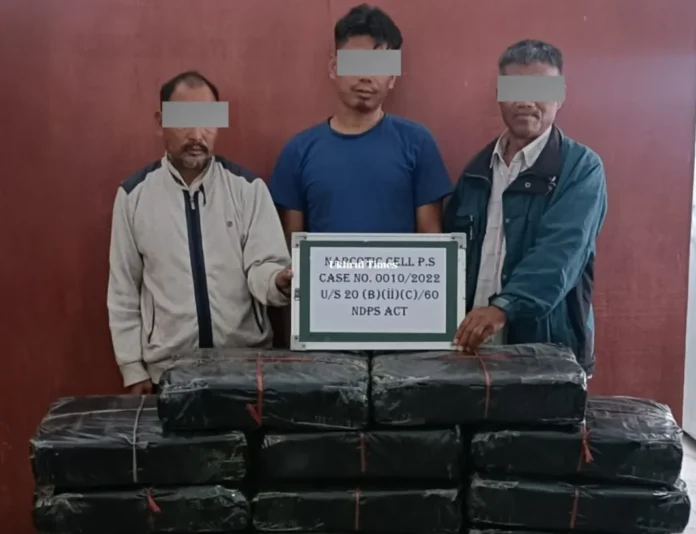 Police seized 200kg of ganja in a vehicle in Kohima and arrested three people on Thursday night, Kohima SP (crime) said in a statement Friday.
The Nagaland Police personnel of Narcotic Cell PS Mobile Unit, while performing routine frisking and checking of suspected vehicles at NH-2 on September 1 at around 9:00 pm, intercepted a Dimapur-bound vehicle B/R No. HR51AU/5006 (Renault Duster) near Viswema Y-Junction of Kohima-Pfutsero-Imphal, which was coming from Imphal, Manipur.
According to the police, an extensive search of the vehicle resulted in the recovery of 200 kg of suspected ganja that was found wrapped in black polythene.
As a result, three people in the vehicle were identified as Amon Raingam (52) from Phalee village, P.S. Somdal; Ng. Masotmi (42) of Phadang village, P.S. Somdal; and Holichan Shinglai (53) of Kasom Khullen, P.S. Kasom Khullen were arrested and the illegal contraband along with the vehicle duly seized. All the people arrested are from Ukhrul District, Manipur State according to police.
A case, vide Narcotic Cell Police Station Case No. 10/2022 U/S 20 (b) (ii) (c)/60 NDPS Act, has been registered for further investigation, the police added.