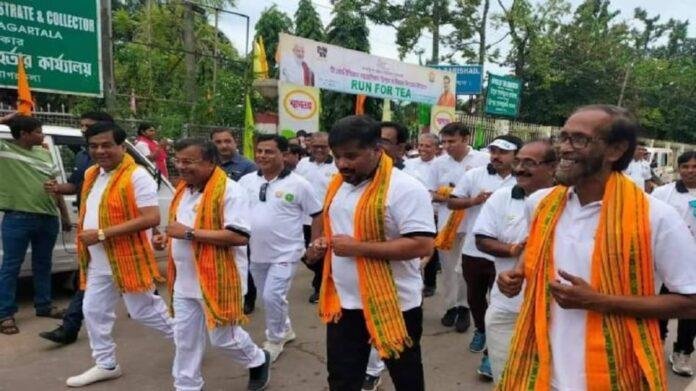 The Tea board of India jointly with Tripura tea development corporation (TTDC) organized a 3 km run 'Run for tea' with the motive to spread awareness and promote and popularise Tripura tea and make the public aware of its health benefits of it.
More than 1000 runners took part in this 3 km run along with personalities like Tripura's Education Minister Ratan Lal Nath, Sports and youth affairs minister Sushanta Chaudhary, Mayor of Agartala Municipal Corporation Dipak Majumder, Runita Phukan, Executive Director of the regional office of the board of India TV I special Secretary of Industrial Department Abhishek Chandra, and Santosh Saha, chairman Tripura Tea Development Corporation (TTDC). The run was started from the tea corner of Birchan state.
TBI official Phukan expressed that the main motive and aim behind conducting the run was to increase and promote the sale of tea in the state and make the public aware of the benefits of Tripura tea while popularising it through a massive run.
The tea production started in Tripura in the year 1916 when Tripura used to be the royal state with 54 tea- estates, hundreds of small tea procession factories.
The chairman of TTDC said that to increase the sale of Tripura's tea there is a demand for setting up a tea auction centre in the state to avoid the cost and hassle of transportation of tea to the existing tea auction center at Guwahati besides opening the hurdles in exporting tea to Bangladesh through the land customs of Tripura. Tripura is on the sixth-position among the tea growing states of India.
Further, He also added that the issue of exporting Tripura tea to Bangladesh shall also be discussed in a forthcoming scheduled visit to India of the Bangladesh prime minister Sheikh Hasina, with PM Modi in next week.