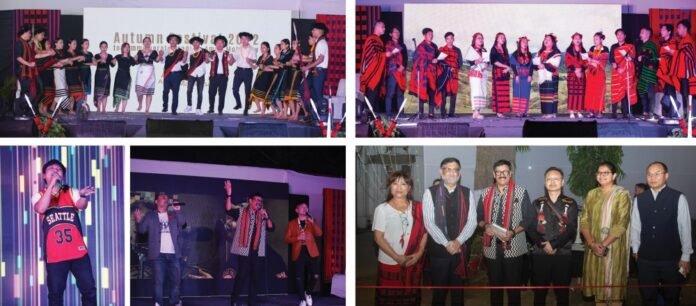 Nagaland's rich culture and vibrant traditions are set to take center stage in the heart of India's capital. Nagaland Tourism's Autumn Festival is all set to make its mark in New Delhi on November 3-4.
The festival promises a captivating blend of Nagaland's diverse cultural heritage. It will be a window into the state's unique customs, art, music, and culinary delights, offering a taste of Nagaland's charm to Delhiites and visitors alike.
The event is a testament to the North East's growing cultural integration with the rest of India. It's an opportunity for people from various backgrounds to come together, experience Nagaland's rich tapestry, and celebrate its many facets.
Nagaland's Autumn Festival is a vibrant tapestry of traditional music and dance performances. Spectators can expect to witness the graceful "Rasuwa" dance, accompanied by the rhythmic beats of indigenous drums.
The festival is also a culinary delight, with Nagaland's famous dishes taking center stage. From the fiery "Smoked Pork with Bamboo Shoot" to the delectable "Naga King Chilli Chutney," the festival promises a culinary journey through Nagaland's rich and diverse flavors.
The heart of the festival will be the "Night Carnival," offering an array of handicrafts and indigenous products. Visitors can shop for unique Naga handicrafts, textiles, and traditional jewelry, making it an ideal opportunity for early Christmas shopping.
This festival is not just about showcasing Nagaland's traditions; it's also about creating connections and fostering cultural exchanges. Delhi's residents and tourists can engage with Nagaland's artisans, cultural performers, and chefs, forging bonds and gaining a deeper appreciation of the state's culture.
More About The Event
The event is also an effort to promote tourism in Nagaland, encouraging travelers to explore its picturesque landscapes, experience its warm hospitality, and immerse themselves in its cultural richness.
The Autumn Festival is a significant step in connecting Nagaland with a broader Indian audience. It's a two-day celebration of culture, tradition, and the spirit of unity that brings people from different parts of the country closer.
The festival will undoubtedly serve as a cultural bridge, further strengthening the ties between Nagaland and the rest of India. It's an opportunity for Delhi to experience the essence of Nagaland and appreciate its cultural wealth.
With Nagaland Tourism's Autumn Festival, New Delhi will witness the magic of Nagaland's culture, and it's a testament to the spirit of unity in diversity that makes India truly special.