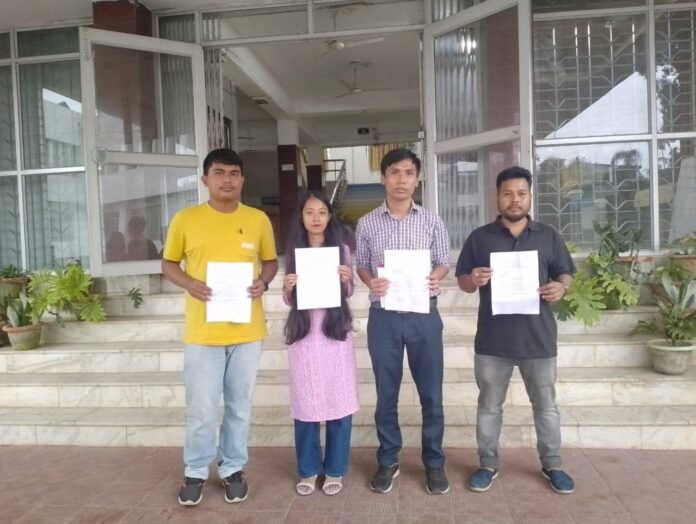 Tripura University VC Meets SFI-TSU Delegation, Promises Alternate Exam Arrangements
Lack of Infrastructure Forces Tripura Students to Travel Outside State for CUET Exams
In a shocking turn of events, more than 300 aspiring students who had their sights set on pursuing a Post Graduation degree in the Kokborok subject from Tripura University were left devastated due to the sheer negligence of the National Testing Agency (NTA). The examination for the Kokborok subject was unexpectedly removed from the schedule of the Combined University Entrance Test (CUET), abruptly shattering the dreams and aspirations of these students.
Frustrated by the lack of response and action from the concerned authorities, the students made repeated attempts to seek an audience with the Vice-Chancellor of Tripura University. Today, their persistence paid off as the Vice-Chancellor finally met with a delegation representing the Student Federation of India – Tripura Students' Union (SFI-TSU).
During the meeting, the Vice-Chancellor acknowledged the gravity of the situation and assured the delegation that if the NTA fails to conduct the examination for Post Graduation in the Kokborok subject, Tripura University will take charge and organize a separate entrance examination for the affected students. This ray of hope has breathed new life into the shattered dreams of the aspirants, giving them a glimmer of possibility to pursue their desired course.
The Vice-Chancellor also shed light on another pressing issue faced by students in Tripura – the lack of adequate infrastructure. He lamented the fact that many students are compelled to travel outside the state to appear for the CUET exams due to the dearth of suitable facilities within Tripura itself. This inconvenient and often expensive ordeal further adds to the challenges faced by aspiring students, putting additional strain on their financial resources and mental well-being.
The assurance was given by the Vice-Chancellor to arrange an alternate entrance exam for the Kokborok subject not only instills hope among the affected students but also highlights the urgent need for comprehensive reforms in the examination system. The negligence demonstrated by the National Testing Agency has not only shattered dreams but also raised questions about the fairness and efficiency of the entire process.
As the situation unfolds, the affected students anxiously await further updates and concrete actions from the authorities involved. The SFI-TSU delegation's efforts, combined with the Vice-Chancellor's promises, have reignited the fight for justice and the right to equal opportunities in education.
The negligence of the National Testing Agency has dealt a severe blow to the aspirations of more than 300 students seeking Post Graduation in the Kokborok subject at Tripura University. However, amidst the gloom, the Vice-Chancellor's meeting with the SFI-TSU delegation brings a ray of hope, as he pledges to arrange an alternative entrance examination if the NTA fails to act. The incident also sheds light on the broader issue of infrastructure inadequacies faced by Tripura students, necessitating urgent reforms and equitable opportunities for all aspiring scholars.