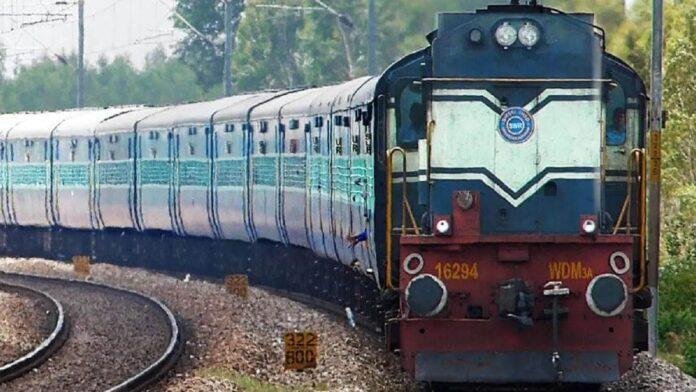 The Railways, which is expanding the rail network in the North East of the country, has taken an important decision related to the passengers going to Tripura. The train, which runs till Tripura's capital Agartala, will now reach Sarboom station in southern Tripura. For the convenience of the passengers, approval has been given to extend the weekly train from Baba Nagri Deoghar to Agartala up to Sarboom.
Railway Board Deputy Director Coaching Vivek Kumar Sinha has also issued an order related to this. Along with the extension of the train from Agartala to Sarboom, the time table has also been released. Sarboom is a town situated on the banks of Feni River. It is the Feni river that separates India and Bangladesh. Its distance from Agartala is about 113 kilometers.
Deoghar-Agartala Express connects world famous Baba Nagri Deoghar with Tripura Sundari Dham. At present, the passengers going to Tripura Sundari have to complete the onward journey by road after getting down at Agartala. Now with the extension of the train till Sarboom, passengers will be able to reach Udaipur directly. The court of Mother Tripura Sundari is in Udaipur city itself.
The Railways has issued an order related to the extension of the train on September 2. However, the date of running of this train till Sarboom has not been announced yet. It is expected that the date will be announced soon. Even after walking till Sarboom, there will be no change in the time table between Deoghar to Agartala. Will run on the earlier time table from both the sides.
This is the time table
15625 Deoghar – Sarboom Express will leave Deoghar at 7:30 PM on every Monday as before and arrive Agartala at 5:45 AM on Wednesday. After this it will reach Udaipur at 6:35 am and Sarboom at 8:05 am.
15626 Sarboom – Deoghar Express will leave Sarboom at 5:00 PM on every Saturday. Udaipur at 5:50 pm will leave Agartala at 7:00 pm and will reach Deoghar at 7:00 am on Monday.