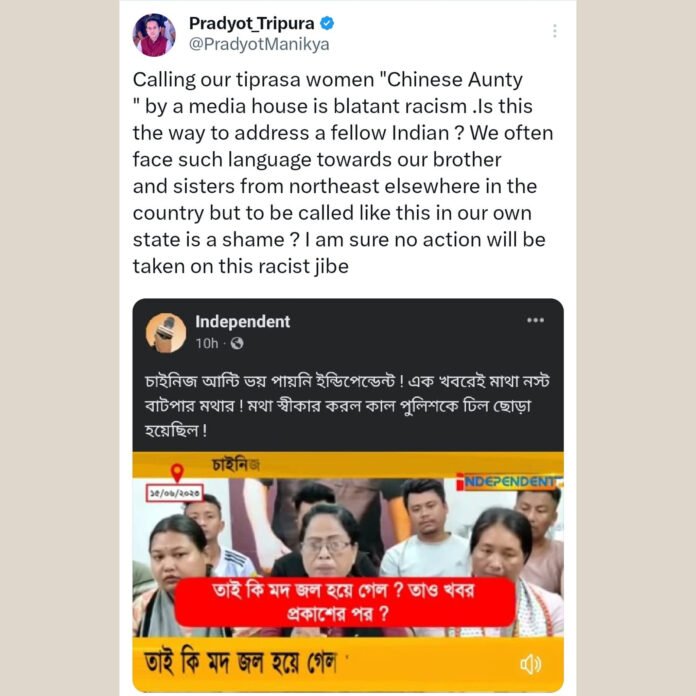 Tripura's media landscape was plunged into controversy as Independent News, a prominent media house in the region, faced severe backlash for its racist reportage. In a shocking display of insensitivity, the media outlet referred to Tiprasa women as "Chinese Aunties," sparking outrage among the local community and beyond.
The derogatory term used by Independent News not only demonstrates blatant racism but also raises serious concerns about the way a fellow Indian community is being addressed. Instances of such language targeting individuals from Northeastern states are unfortunately not uncommon elsewhere in the country. However, for this offensive language to be employed within Tripura itself is an appalling shame.
Pradyut Manikya, the esteemed TIPRA Chief, expressed his disappointment, stating, "Is this the way to address a fellow Indian? We often face such language towards our brothers and sisters from the Northeast in various parts of the country, but to be called such names within our own state is deeply regrettable. I fear that no action will be taken to rectify this racist jibe."
The incident gained further traction when Bubagra Pradyot Bikram Manikya DebBarma took to Twitter, condemning Independent News' racist reportage. In his tweet, he expressed his outrage, stating, "Independent media's racist reportage against all Tiprasa women by calling them 'Chinese Aunties' is an utterly unacceptable act. We demand immediate action to address this discriminatory behavior."
The local community has rallied together, demanding accountability and a swift response from Independent News. The incident highlights the urgent need for awareness and education regarding racial sensitivity, as it is crucial to foster an inclusive society that respects the dignity of all its members.
As the uproar continues, the media house finds itself under intense scrutiny, facing calls for a formal apology and concrete steps to rectify the damage caused. The incident serves as a stark reminder that racial discrimination has no place in our society and that every individual, regardless of their background, deserves to be treated with dignity and respect.