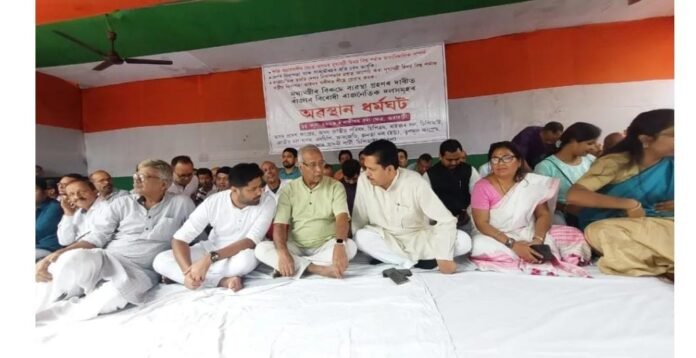 The opposition in Assam has intensified its demand for decisive action against Chief Minister Himanta Biswa Sarma, calling for his invocation under the National Security Act (NSA) amidst allegations of his purported links with Kuki militants from Manipur. The opposition parties argue that such serious allegations require a thorough investigation and appropriate legal measures to maintain peace and security in the region.
The opposition, comprising various political parties in Assam, has expressed deep concern over the alleged connections between Chief Minister Sarma and Kuki militants from neighboring Manipur. Citing the importance of maintaining the state's stability and security, they assert that the allegations demand swift and stringent action.
The demand for invoking the National Security Act stems from the opposition's belief that Sarma's alleged involvement with Kuki militants poses a significant threat to the state's internal security and harmony. They contend that using a law such as the NSA would allow for a thorough investigation into the matter and enable the law enforcement agencies to gather comprehensive evidence.
The opposition parties argue that the alleged links between the Chief Minister and Kuki militants have serious implications for both Assam and Manipur. They assert that such associations can undermine the government's efforts to maintain peace and stability in the region, potentially leading to unrest and compromising the safety of the citizens.
Moreover, the opposition emphasizes that the invocation of the NSA is necessary to send a strong message against any form of collaboration with militant groups. They believe that taking stringent action against those involved will deter others from engaging in similar activities, thereby protecting the state's security and preventing any escalation of violence.
However, it is important to note that Chief Minister Sarma has vehemently denied the allegations, labeling them as baseless and politically motivated. He has called for a fair investigation to expose the truth and has expressed confidence in his innocence.
In response to the opposition's demands, the state government has assured a thorough probe into the allegations. It has reiterated its commitment to maintaining law and order in Assam and emphasized the need for a fair and impartial investigation, ensuring that justice is served.
The demand for action against Chief Minister Himanta Biswa Sarma under the NSA over his alleged links with Kuki militants from Manipur has gained momentum in Assam. The opposition's concerns about internal security and stability in the region have fueled their calls for a stringent investigation and legal measures to address the allegations. As the matter unfolds, it remains crucial for a fair and impartial investigation to determine the truth and maintain peace in Assam.